Corn Pulav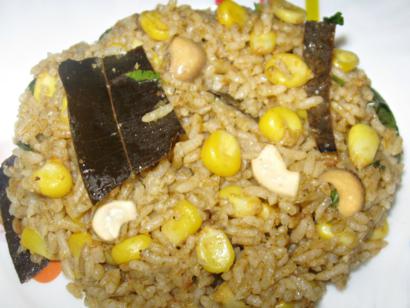 Ingredients
• Basmati rice – 1 cup
• Corncobs – 3
• Bay leaf – 1
• Cinnamon – 1 inch stick
• Black cardamoms – 2
• Cloves – 3
• Cashew nuts – 10 to 12
• Saffron – a pinch dissolved in one tbsp warm milk
• Ghee – for frying
• Salt – as required
Grind Together:
• Ginger – ½ inch piece
• Turmeric powder – ¼ tsp
• Coriander powder – 1 tbsp
• Garam masala powder – ¼ tsp
• Chili powder – 1 tsp
Preparation
1. Soak rice for 10 minutes.
2. Drain water and fry in ½ tsp. of ghee, till moisture is absorbed.
3. Heat ghee and fry garam masala spices.
4. Continue frying with ground masala paste till oil floats on top.
5. Add cooked corn and rice.
6. Pour two cups of boiling water with enough salt.
7. Mix well and cook 10 minutes in pressure cooker, (or) Cook for 20 minutes with a tight lid in direct absorption method, on reduced flame.
8. After removing from fire, mix saffron milk and fried cashew nuts.
Serves
2 Persons
By Bhaktin Ranjana