Creamy Potato Salad Surprise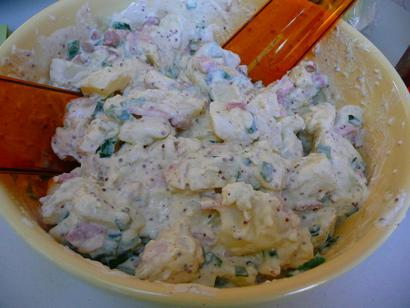 Global potato salad variations take many directions: warm and chilled, sweet 'n' sour, mustardy, rich and unadorned. The surprise in this "American-in-Delhi" salad is the addition of crunchy bits of fried moong dal badi, sold at most Indian grocery stores. This potato salad with a Punjabi twist is worth taking on any outing.
Preparation and cooking time (after assembling ingredients): about 45 minutes
Ingredients
• Red-skinned boiling potatoes (about 2 pounds/1 kg) – 7-8 medium-sized
• Ghee or peanut oil – 4 table spoons (60 ml)
• Moong dal badis (cracked with a kitchen mallet into pea-sized bits) or cashew pieces) – 1/3 cup (30 g)
• Chopped fresh coriander and parsley – 3 table spoons (45 ml) each
• Freshly ground pepper – ¼ teaspoon (1 ml)
• Salt – 1 ¼ teaspoon (6 ml)
• Lime juice – 2 table spoons (30 ml)
• Coarsely crushed dry-roasted cumin seeds – ½ table spoon (7 ml)
• Sour cream or rich yogurt about 1/3 cup (80 ml) buttermilk – 1 cup (240 ml)
• Sprinkle of cayenne pepper or paprika
Preparation
1. Boil the potatoes in their skins until they are just fork-tender; take care not to overcook them. Cool slightly, peel and cut into ½-inch (1.5 cm) dice. Place in a salad bowl.
2. Heat the ghee or oil in a frying pan moderate heat. Add the badi pieces or cashews and, stirring constantly, fry until golden brown. Pour them and the cooking oil over the potatoes. Add the remaining ingredients and gently mix, using your hands or a wooden spoon, until the salad is coated with dressing. Serve at room temperature or slightly chilled, sprinkled with cayenne or paprika.

Serves
6

By Yamuna Davi Dasi