Potato Almond Curry with Noodles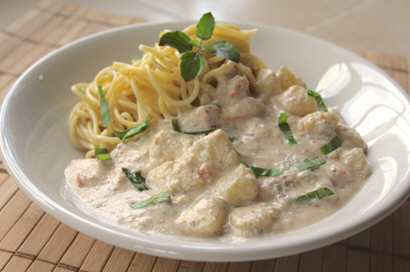 Ingredients
• 3 large potatoes
• 2 small tomatoes
• 2 cups coconut milk
• 1 cup soaked almonds (you can also use cashews or peanuts)
• 1 cup water
• 1 green chili
• 1 tsp chopped fresh ginger
• 2 tbsp ghee
• 1 tsp cumin seeds
• dash hing
• 1 tsp coriander powder
• 1/2 tsp garam masala
• 1 tsp sugar
• 2 tsp salt
• 1/4 tsp pepper
• juice of 1 lime
Preparation
1. First you will need to soak the almonds for at least 4 hours. If you use cashews or peanuts, you will also need to soak them.
2. When you are ready to begin cooking, first peal and chop the potatoes. Cook them in salted water for about 8 minutes until just done.
3. While the potatoes are cooking, we can prepare the fresh coconut milk.
4. With 1/2 coconut, take out the meat. Place in the blender along with all the coconut water, or just plain water.
5. Blender for about 4 minutes until very smooth.
6. Next place the coconut mixture inside a cheese cloth.
7. Fold the cheesecloth up and squeeze out the coconut milk.
8. Fresh homemade coconut milk! You can save the coconut meat for other recipes.
9. Now the potatoes should be done. Drain the hot water out and run cold water over the potatoes to stop the cooking process. Then set aside.
10. Next, place the soaked nuts in a blender.
11. Add 1 cup of water and blend until smooth.
12. Chop up the tomatoes, green chili and fresh ginger.
13. Add 2 tbsp ghee to a large pot and heat. Then add the cumin seeds and fry until the seeds turn a darker brown.
14. Then add the chopped green chili and ginger. Fry for about a minute.
15. Then add the potatoes and all remaining dried spices.
16. Stir up nicely and then add the tomatoes, coconut milk, lime juice and nut puree.
17. Cook for about 5 more minutes and you are done!
18. Boil up some pasta noodles.
19. Now you are ready to offer to Krsna with love and devotion.
By Bhaktin Christina