Creamy Vegetable Milk Soup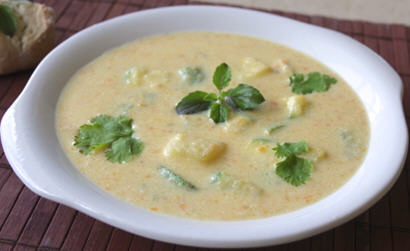 Description
Milk makes an excellent broth for any creamy soup! Here is a very simple, delicious and wholesome recipe that takes only 30 minutes to make.
Ingredients
• 3 medium potatoes
• 2 carrots
• 1 zucchini
• 4 cups milk
• 1/2 cup cream
• 1 green chili
• 1 tbsp ghee
• 1 tsp fennel seeds
• 1 tsp ground ginger
• 1/4 tsp hing
• 2 tsp salt
• 1/4 tsp pepper
Preparation
1. First chop up all the veggies.
2. Heat the ghee in a large pot on medium high flame. Then add the fennel seeds and fry for about a minute.
3. Then add the chopped potatoes and carrots and cook for about 3 minutes making sure to stir every 30 seconds.
4. Now add the remaining spices, except for the coriander.
5. Then immediately add the milk and cream, then stir. Cook for about 10 minutes or when the potatoes and carrots are cooked through.
6. In the meantime, add a little ghee to a small pot along with the chopped zucchini. Add a pinch of salt and cook for about 4-5 minutes. Don't over cook, we do not want them to be too mushy.
7. Now the potatoes and carrots are fully cooked. Time to blend all the ingredients together.
8. Blend until smooth. You don't have to blend 100%. It is nice to have chunks of potato and carrot in the soup.
9. Now add the cooked zucchini.
10. Add the fresh coriander leaves.
11. Now you are ready to Serve!
By Bhaktin Christina