Cucumber Soup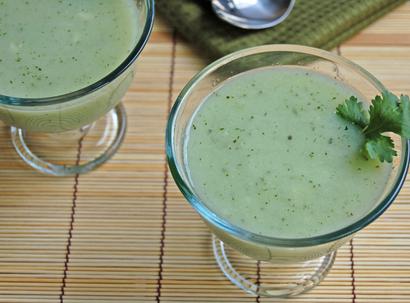 Ingredients
• Cucumber – 1 kg
• Lemon – 1
• Pepper powder – a pinch
• Vegetable Stock – 7 cups
• Milk – 1½ cup
• Corn flour – 1 tsp
• Butter – 1 tsp
• Salt – as required
• Green food color – 1 drop
Preparation
1. Melt butter in a pot.
2. Add grated cucumber and 7 cup vegetable stock.
3. Boil for 10-15 minutes. When cool, strain through a fine shift.
4. Dissolve corn flour in milk and mix with soup.
5. Boil the soup for 10 minutes.
6. Remove from the heat and add salt, pepper and green color.
7. Keep in the refrigerator for 1 hour and serve cool.
Serves
5- 6 Persons
By Bhaktin Archana