Curd Rice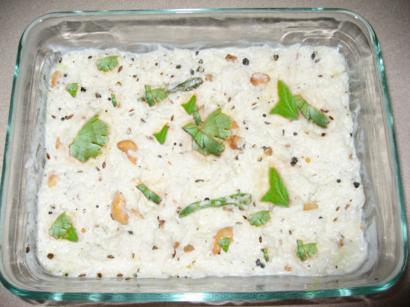 Ingredients
• Rice -1cup
• Milk -250 ml
• Fresh curds – ½ cup
• Salt – as required
• White butter – 1 tbsp
• Fresh cream from top of the Milk – 1 ½ tbsp
• Green chilies – 8
• Finely cut coriander leaves – 1 tbsp
For Seasoning:
• Mustard seeds – ½ tsp.
• Black gram dhal – 1 tsp
• Bengal gram dhal – 1 tsp.
Note : (Grated carrots, diced cucumbers, finely cut ginger, raw mango, green sweet grapes can be added according to taste)
Preparation
1. Cook rice till it becomes soft.
2. Drain water and allow it to cool.
3. Mash with hand and add thick milk to that.
4. Heat oil, add the seasonings and fry till golden brown.
5. Add slit green chilies, fry for a minute and pour over the rice.
6. Add butter, salt, cream and mix well.
7. Mix curds one hour before serving.
8. Garnish with cut coriander leaves.
Serves
2 Persons.
By Bhaktin Pooja