Curd Rice – II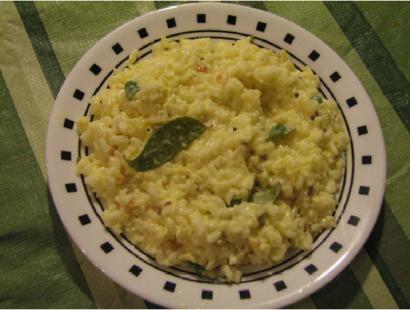 Ingredients
•1 C rice
•2 C water
•1 Tsp salt
•1¼ C yogurt
•½ C milk
•1 Tbsp oil
•1 Tsp black mustard seeds
•1 Tsp cumin seeds
•1 Tbsp chana dal
•1 Tsp split urad dal
•1 green chili cut lengthwise
•1 Tsp ginger, chopped
•10-12 fresh curry leaves
•½ Tsp yellow asafetida powder
•A pinch turmeric powder
1.Combine the rice and water in a saucepan; bring to a boil over moderately high heat. Stir the rice once, reduce the heat to very low and cover with a tight fitting lid. Cook until rice is tender.
2.Cool the rice in a large mixing bowl or plate.
3.Add the salt, yogurt and milk to the rice and mix well.
4.Heat oil in a pan over moderately high heat. Add the mustard seeds, when they crackle, add cumin, chana dal, urad dal. Stir fry until golden brown.
5.Add the chili, ginger, curry leaves and asafetida, and sauté until fragrant. Quickly add the turmeric, stir to mix and immediately add to the rice. Mix well.
By Anand Lila Devi Dasi