Curried Cauliflower and potatoes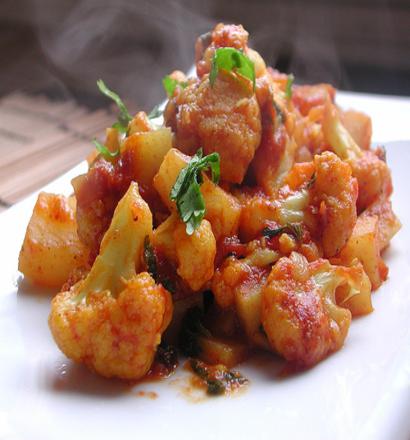 Potato spears and cauliflower flowerets are browned in spices over strong heat to bring out their rich, deep flavors and are then gently cooked to tenderness with tomatoes. Nether dry nor wet, this dish has a succulent, moist texture that is somewhere in between. You can vary the flavor with tomatoes, using green, Italian plum or ripe reds.
Preparation time (after assembling ingredients): 5 minutes
Cooking time: 30 minutes

Ingredients
• Hot green chilies, stemmed, seeded and cut length wise into long slivers (or as desired) – 2
• Scraped fresh ginger root, cut into thin julienne – ½ -inch (1.5 cm) piece
• Cumin seeds – 1 teaspoon (5 ml)
• Black mustard seeds – ½ teaspoon (2 ml)
• Ghee or a mixture or vegetable oil and unsalted butter – 4 table spoons (60 ml)
• Potatoes (about 1 pound/455 g), peeled and cut into spears 2 ½ * ½ *1/2 inches (6.5 * 1.5 * 1.5 cm) long – 3 medium-sized
• Cauliflower (about 2 pounds/1 kg), trimmed, cored and cut into flowerets 2 ½ * ½ *1/2 inches (6.5 * 1.5 * 1.5 cm) long – 1 medium–sized
• Red or green tomatoes (about ½ pound/230 g), quarted – 2 medium-sized
• Turmeric – ½ teaspoon (2 ml)
• Ground coriander – 2 teaspoons (10 ml)
• Garam masala – ½ teaspoons (2 ml)
• Jaggery or brown sugar – 1 teaspoon (5 ml)
• salt – 1 ¼ teaspoons (6 ml)
• Coarsely chopped fresh coriander or minced parsley lime or lemon wedges (optional) – 3 table spoons (45 ml)

Preparation
1. Combine the chilies, ginger, cumin seeds and mustard seeds in a small bowl. Heat the ghee or oil-butter mixture in a large nonstick saucepan over moderately high heat. When it is hot but smoking, pour in the combined seasonings and fry until the mustard seeds turn gray, sputter and pop. Drop in the potatoes and cauliflower and stir-fy for 4-5 minutes or until the vegetables pick up a few brown spots.
2. Add the tomatoes, turmeric, coriander, garam masala, sweetener, salt and half of the fresh herb. Stir well, cover and gently cook over low heat, stirring occasionally, for 15-20 minutes or until the vegetables are tender. You may want to sprinkle in a few table spoons (45 ml) of water if the vegetables stick to the bottom of the pan, but stir gently to avoid mashing or breaking them. Serve with the remaining fresh herb and garnish with lemon or lime wedges, if desired.
Serves
5 or 6

By Yamuna Devi Dasi