Curried Greens and Eggplant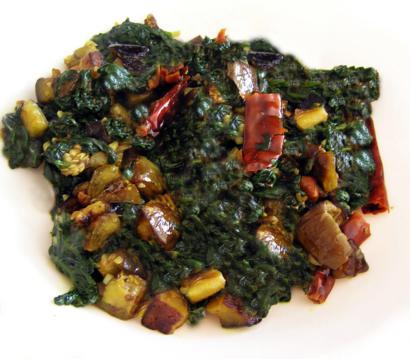 The "heat" in this sak should be noticeable. Fresh green chilies, though unpredictable in strength, are usually milder than dried red chilies. If you are very sensitive to chilies, try fresh Anaheims or yellow wax. To be authentic, this dish should be a bit hot and spicy. Bengalis sauté the greens quickly over high heat, allowing them to wilt, then soften, but still retain exuberant color and fresh flavor.
Preparation time (after assembling ingredients): a few minutes
Cooking time: 10-15 minutes
Ingredients
• Peanut oil plus – 4 table spoons (60 ml)
• Mustard oil – 2 table spoons (30 ml) or vegetable oil – 6 table spoons (90 ml)
• Eggplant (8-10 ounces/230-285 g) Cut into ¾ -inch (2 cm) cubes – 1 small
• Garam masala – ½ teaspoon (2 ml)
• Turmeric – ½ teaspoon (2 ml)
• Whole green jalapeno chilies, dried Whole red chilies, Anaheim chilies or Yellow wax chilies (or as desired) – 1-2
• Crushed fennel seeds, Coriander seeds and cumin seeds – 1 teaspoon (5 ml) each
• Cassia or bay leaf – ½
• Fresh spinach, trimmed, washed and coarsely chopped, or one 10-ounce (285 g) – 1 pound (455 g)
• Package of frozen chopped spinach, defrosted and pressed dry
• Jaggery or maple syrup – 1 teaspoon (5 ml)
• Salt – ½ table spoon (7 ml)
• Lemon or lime juice – 1 table spoon (15 ml)
• Lemon or lime wedges – 4 or 5

Preparation
1. Heat 4 table spoons (60 ml) of peanut or vegetable oil in a nonstick wok or large frying pan over moderately high heat.. When it is hot but not smoking, drop in the eggplant and stir-fry until reddish-brown and crisp. Remove with a slotted spoon and drain on paper towels. Sprinkle with garam masala and turmeric, and toss to coat the cubes with spices.
2. Add the mustard oil or the remaining 2 table spoons (30 ml) vegetable oil to the pan. Heat the mustard oil to the smoking point for a few seconds, but only allow the vegetable oil to become hot. Immediately add the chilies, spice seeds and cassia or bay leaf, and in a few seconds add the greens, sugar and salt. Reduce the heat to moderate and cook for about 4 minutes, stirring frequently.
3. Add the lemon or lime juice and fried eggplant, toss gently and reheat the eggplant. Serve immediately, garnished with lemon or lime wedges.

Serves
4 or 5

By Yamuna Devi Dasi