Dahi Vada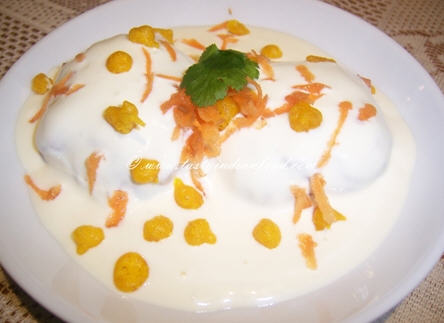 Ingredients
•Curd (dahi)-150 grams- 3/4 cup
•Vada-6
•Salt to taste
•Black pepper powder-1/4 teaspoon
•Red chilli powder-1/4 teaspoon
•Water
•Boondi to garnish
Preparation: 
1. Beat curd in a bowl & add water as required so that the curd is not very thick.
2. Add salt, red chilli powder & black pepper powder & mix well.
3. Add the vadas in another bowl containing water.
4. For the vada recipe, refer here.
5. Let them remain soaked for 2 minutes.
6. After 2 minutes, squeeze out the excess water with your palms.
7. Add these vadas to the curd prepared.
8. Garnish with boondi.
9. Dahi vada is ready to serve.
10. Tastes best when served with tamarind chutney.
By Bhaktin Meena