Dal Dhokadi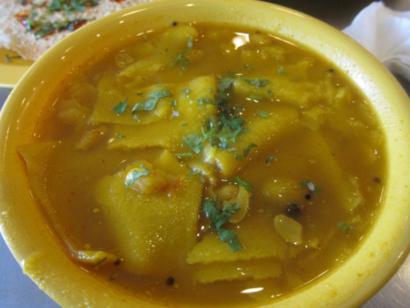 Ingredients
• Toor dal- 250 gms
• Wheat flour – 200 gms
• Green chilies – 3
• Green chili paste – 3 tbsp
• Groundnut – 50 gms
• Cashew nut – 25 gms
• Turmeric powder – 1 tbsp
• Mustard seeds – 1 tbsp
• Cloves – 3-4
• Cinnamon – 2
• Tomatoes – 2
• Tamarind – 1 tbsp
• Brown sugar – 100 gms
• Salt – as required
• Garam masala – 1 tbsp
• Ajwain – 1 tsp
• Oil – 4-5 tbsp
• Red chili powder – 2 tbsp
• Asafetida
• Cilantro leaves – 1 ½ cup
• Ghee – 3-4 tbsp

Preparation
1. Sift wheat flour. Add salt, turmeric powder, ajwain, red chili powder. Mix well.
2. Add oil and knead the flour to roti like consistency.
3. Wash tuvar dal and pressure cook it for three whistles, then cool and remove the dal.
4. Heat oil and ghee in a pot, then put cloves and cinnamon and then add mustard leaves.
5. When they crackle add curry leaves, green chilies and a pinch of asafetida.
6. Pour tuvar dal. Mix tamarind and brown sugar water, cashew nuts, groundnut, garam masala, red chili powder and mix well.
7. Add tomato pulp, turmeric powder, salt and 2 cups of water. Boil the dal.
8. Roll out big rotis of the prepared dough and cut them into pieces and add these pieces in boiling dal.
9. Boil for 10 minutes and remove.
10. Sprinkle cilantro leaves and serve hot.
Serves
4 Persons
By Bhaktin Shanti