Date and Raisin Chutney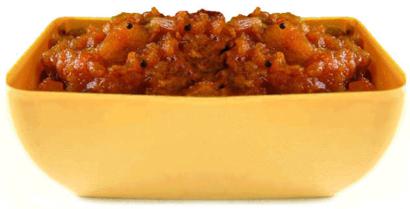 Dates are the candy-like fruits of date palm trees, and raisins are sun-dried grapes. Both are intensely sweet and, combined, have considerable nutritive value, especially in concentrated iron. Dates are sold in several states, from very soft and fresh to hard and dry. If possible, use soft organic dates in this recipe.
Preparation time (after assembling ingredients): 2 ½ hours
Ingredients
• Fennel seeds – ½ teaspoon (2 ml)
• Cumin seeds – 1 teaspoon (5 ml)
• Coriander seeds – ½ table spoon (7 ml)
• Chopped pitted dates (about 4 ounces/115 g) – 1 cup
• Raisins, preferably Muscat – 1/3 cup (50 g)
• Fresh lime juice – ¼ cup (60 ml)
• Fresh orange juice – 2 table spoons (30 ml)
• Piece of peeled fresh ginger root, sliced – ½ -inch (1.5 cm)
• Hot green jalapeño chilies, seeded and chopped – 2-3
• Salt – ¼ teaspoon (1 ml)
• Freshly ground nutmeg – 1/8 teaspoon (0.5 ml)
• Chopped fresh coriander – 2 table spoons (30 ml)

Preparation
1. Slowly dry-roast the spice in a heavy pan over low heat. When they darken a few shades, remove from the heat and cool. Combine the dates, raisins and citrus juice in a small bowl and set aside for 2 hours.
2.
Fit a food processor with the metal blade, or use a blender. With the machine running, drop the ginger and chilies through the feed cap and process until minced. Add the soaked fruits and juices and the spice seeds, and pulse several times until coarsely ground. Transfer to a bowl. Stir in the salt, nutmeg and fresh coriander. Covered tightly and refrigerated, the chutney can be kept for 5-6 days.
Makes
½ cups (360 ml)

By Yamuna Devi Dasi