Date Walnut Cake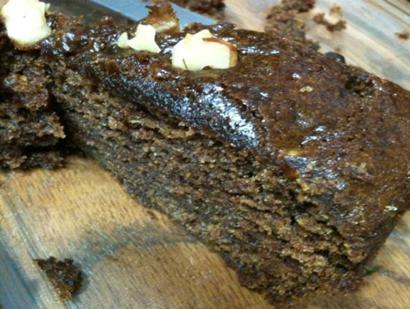 Ingredients
• All purpose Flour – 1 cup
• Baking Soda – 1 teaspoon
• Sugar – 3/4 cup
• Oil – 1/2 cup
• Milk – 3/4 cup (I use 2% milk)
• Dates – 20 dates
• Walnuts chopped – ½ cup
• Vanilla Extract – 1 teaspoon
Preparation
1. Soak dates in warm milk overnite.When soft remove seeds & puree them in a grinder along with the milk. Alternately you can use dates paste available in the market.
2. Add sugar and oil to the pureed dates and mix.
3. Sift together the flour and baking soda and add to the date's mixture one tablespoon at a time to avoid forming lumps. I prefer to use a hand mixer to get a smooth batter.
4. Now add the vanilla essence and mix well.
5. Finally fold in the chopped walnuts. Transfer to greased cake tin and bake at 350F for 30-40 mins or till a knife inserted come out clean.
6. Let cool for 10-15 minutes before inverting.
7. Offer to Krishna and enjoy the delicious prasadam
Serves
6-7
By Dipti Naik