Dokla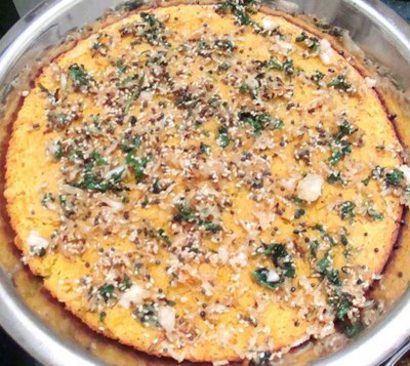 Ingredients
• Channa dal, cleaned – 1 cup
• Yogurt – 1/3 cup
• Warm water – 1/2 cup
• Chilies, minced – 2 fresh
• Grated fresh ginger – 1 tbsp
• Turmeric – 1/4 tsp
• Salt – 1 tsp
• Lemon juice – 1 tsp
• Melted ghee – 1 1/2 tsp
• Baking powder – 1 tsp
For  A Topping (optional, if you serve dokla with chutney)
• Ghee – 2 tbsp
• Black mustard seeds – 1 tbsp
• Sesame seeds – 2 tbsp
• Asafoetida – 1 pinch
• Grated fresh coconut – 5 tbsp
• Chopped fresh coriander leaves – 4 tbsp
Preparation
1. Wash the dal and soak it for at least 4 hours. Drain it. Grind it with a little of the water into a paste and add the yogurt to make a nice batter.
Or blend it with the yogurt and water in a blender or food processor into a batter. Let it stand at least 6 hours or overnight in a warm place, covered.
2. Add the chilies, ginger, turmeric, salt, lemon juice, melted ghee, and baking powder. Mix well. Grease a baking pan with a little butter or ghee and pour in the batter about 1 inch thick.
3. Bake the dokla at 350 degrees F for about 25-30 minutes or until browning on the edges and cracks arerming on top and the center springs back when touched.
4. To prepare a topping, heat the 2 tablespoons of ghee in a small pan and fry the mustard seeds, the sesame seeds, coconut, and a pinch of asafoetida. When the mustard seeds finish popping, spread these seasonings over the top of the dokla and then sprinkle over it the coriander leaves.
By Bhaktin Priya