Double-Dal Soup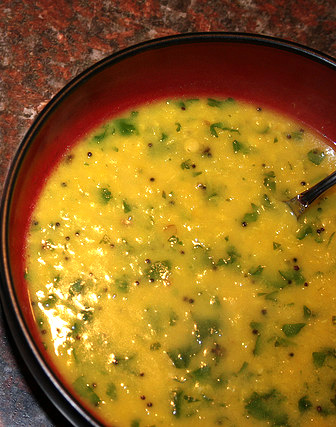 Toor dal is also known as arhar or tuar dal and pigeon peas. The mildly seasoned combination of moong and toor dals in this recipe is popular in cool-weather months.
Dal soaking time: 3 hours for toovar dal, 5 hours for yellow split peas
Preparation time (after assembling ingredients): 10 minutes
Cooking time: 1 ½ hours

Ingredients
• Split moong dal, without skins – 1/3 cup (75 g)
• Split toor dal or yellow split peas – 1/3 cup (70 g)
• Water – 5 ¾ cups (1.5 liters)
• Turmeric – ½ teaspoon (2 ml)
• Scraped, finely shredded or minced fresh ginger root – 1 teaspoon (5 ml)
• Ghee or vegetable oil – 3 table spoons (45 ml)
• Minced fresh parsley or coarsely chopped coriander – 2 table spoons (30 ml)
• Fresh lemon or lime juice – 1 table spoon (15 ml)
• Salt – 1 teaspoon (5 ml)
• Black mustard seeds – 1 teaspoon (5 ml)
• Small curry leaves, preferably fresh – 4-6

Preparation
1. Sort, wash, and drain the split mung beans and toor dal or split peas as explained on page 21. If using toovar dal, soak in 2 cups (480 ml) of hot water for 3 hours; if using yellow split peas, soak in 2 cups (480 ml) of hot water for 5 hours. Drain well.
2. Place the water, turmeric, ginger root, green chilli and 1 table spoon (15 ml) of the ghee or oil in a heavy 3-quart/liter nonstick saucepan. Bring to a boil over high heat. Stir in the dals, cover with a tight-fitting lid and reduce the heat to moderately low. Simmer for 1 ½ hours or until the dals are soft and fully cooked. Remove from the heat and beat with a wire whisk or rotary beater until the dal soup is creamy smooth. Stir in the fresh herb, lemon juice and salt.
3. Heat the remaining ghee or oil in a small saucepan over moderate to moderately high heat. When it is hot, add the black mustard seeds. Fry until they gray and sputter and pop. Remove from the heat and add the curry leaves. Fry for 1-2 seconds. Pour this hot seasoning into the cooked dal and cover immediately. Allow the seasonings to soak into the hot dal for 1-2 minutes, then stir and serve.

Serves:
4 to 6

By Yamuna Devi Dasi