Eggless Christmas Plum Cake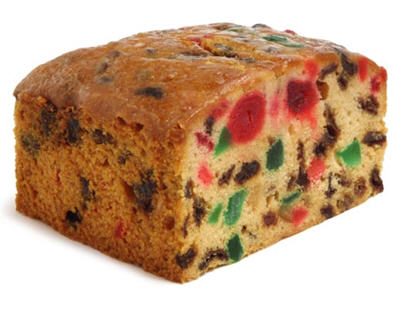 Ingredients
. ½ can condensed milk
. ½ cup soft butter( 1 stick)
. 1 tsp vanilla essence
. 1 cup cake flour( Fill a cup with 1 tbsp corn flour and the balance with all purpose flour/maida)
. ½ tsp Soda
. ½ tsp baking powder
. Pinch of salt
. ¼ cup orange soda(fanta) or plain soda / milk /water
. 1 tsp spice powder( mixture of ½ tsp cinnamon and ½ tsp cardamom powder)
. ½ cup dried fruits( a mixture of any of following: raisins or tutti frutti, dates, cherries, cranberries)
. ½ cup chopped nuts( a mixture of any nuts like almonds, pistachios, cashews, pecans)
Preparation
1. In bowl mix in butter and condensed milk, beat in the vanilla essence.
2. Gradually beat in the flour, baking soda, baking powder, salt and orange juice. Add in the spices, fruits and nuts. Mix well.
3. Fill the prepared tray till half. Bake in an 8 inch round tray for 23 minutes or loaf shaped aluminium tray for 25-30 or till the toothpick comes out clean.
4. Let it cool, Remove and Ready to Serve!!!
By Meena Samtani (Madhulila)