Creamed Potatoes with Lemon pepper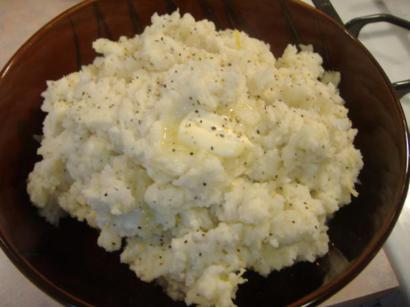 Root vegetables are popular on Ekadasee menus. This substantial variation is ideal for cold winter days, when everyone gravitates to the warmth of the kitchen. With pooris, hot rolls or toast, your family will likely find it a welcome change from Sunday hash browns. The potatoes can be half-cooked –either steamed or pan-fried the night before or early in the morning –and finished at meal time.
Preparation time (after assembling ingredients): 10 minutes
Cooking time: 30 minutes
Ingredients
• Boiling potatoes peeled – 12 small (about 2 pounds/1 kg),
• Ghee or unsalted butter – 5 table spoons (75 ml)
• Bay or cassia leaf – ½
• Whole cloves – 3
• Light cream or milk – ¾ cup (180 ml)
• Black lemon pepper – ½ teaspoon (2 ml)
• Freshly ground sea salt – 1 teaspoon (5 ml)
• Chopped fresh parsley or coriander – 2 table spoons (30 ml)
• a sprinkle of paprika or cayenne pepper

Preparation
1. Cut the potatoes into quarters and prick each piece in two or three places with the tip of a sharp paring knife or potato fork. Heat the ghee or butter in a large heavy-bottomed nonstick frying pan over moderate heat. Add the bay or cassia leaf and cloves and let them sizzle for several seconds. Add the potatoes and fry, stirring occasionally, until they are half-cooked and turning golden. Alternately, steam the potatoes, along with the bay or cassia leaf and cloves. (This can be done ahead of time.)
2. Pour in the cream or milk, reduce the heat slightly and cook, stirring now and then, until it has reduced by half into a thick sauce and the potatoes are fork –tender. Sprinkle with lemon pepper and salt. Remove the pan from the heat, cover and set aside for 1-2 minutes. Stir gently, remove the cloves and bay or cassia leaf, and serve piping hot sprinkled with the fresh herb and paprika or cayenne.

Serves
6 to 8

By Yamuna Devi Dasi