Eggless English Pancakes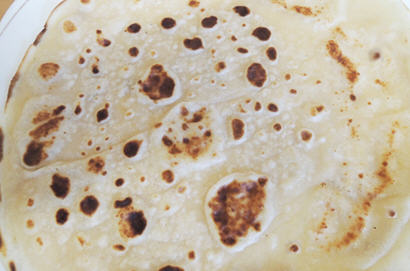 100g Plain flour
100ml Sweetened Condensed Milk (egg replacer)
200ml Milk
Butter or Olive Oil for Frying
1) Sift flour into a large mixing bowl.
2) Make a well in the centre of the flour and add condensed milk .
3) Wisk together and gradually add the milk to make a smooth, runny batter.
4) Place a none-stick frying pan on medium heat & add butter or oil.
5) Poor a full ladle of batter into the frying pan and quickly tilt the pan to create a evenly thin and round layer.
6) Cook for 30 seconds to 1 minute until golden brown.
7) Use a palette knife to carefully flip the pancake and cook for a further 20 to 45 seconds.
8) Slide pancake onto a plate and serve with sugar and lemon, folded into triangles or simply rolled up.