Sweet Tomato Chutney with fennel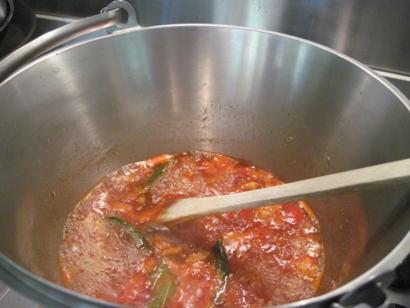 This dish, from a banquet at Calcutta's famous Radha Govinda temple on Mahatma Gandhi Road, was served near the end of the meal. Depending on the number of courses, every regional cuisine has an order of serving, and sweet chutney often served with plain rice or toasted pappadam are considered palate cleansers after other spicy dishes. This is versatile chutney that complements many types of cuisine.
Preparation time (after assembling ingredients): about 30 minutes
Ingredients
• Ghee or mustard oil – 3 table spoons (45 ml)
• Fennel seeds – ½ teaspoon (2 ml)
• Nigella kalonji – ¼ teaspoon (1 ml)
• Cumin seeds – ¼ teaspoon (1 ml)
• Black mustard seeds – ¼ teaspoon (1 ml)
• Cassia or bay leaf – ½
• Whole dried red chilies – 1-2
• Firm ripe tomatoes, peeled and coarsely chopped – 1 2/3 cups (570 g)
• Maple sugar or jaggery – 1/3 cup (50 g)
• Golden raisins – 1/3 cup (50 g)
• Turmeric – ¼ teaspoon (1 ml)
• Salt – ½ teaspoon (2 ml)

Preparation
1. Heat the ghee or oil in a large heavy frying pan over moderate heat. (If you use mustard oil, bring it to the smoking point for about 5 seconds to make the pungent oil docile). When it is hot but not smoking, add the fennel seeds, nigella, cumin seeds and black mustard seeds. When the fennel seeds darken one or two shades or the mustard seeds begin to pop, drop in the cassia or bay leaf and red chilies. Within 5 seconds, carefully add the chopped tomatoes and their liquid. Stir to mix, and cook over moderately low heat for 10 minutes.

2. Add the remaining ingredients and continue to cook for about 20 minutes or until the chutney is glazed and fairly thick. You should have about 1 cup (240 ml). Serve at room temperature, or cover and refrigerate for up to 4 days.

Makes
About 1 cups (240 ml)

By Yamuna Devi Dasi