Eggless Vanilla Cupcakes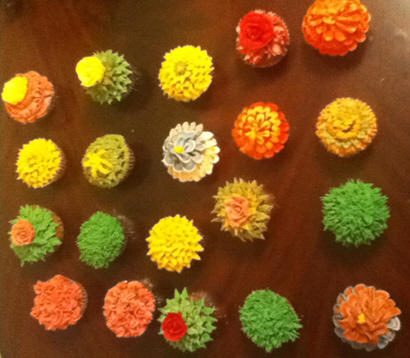 For Dry Ingredients:
• Cake flour ( 1 2/3rd  cup all purpose flour and 5 tbsp corn starch) – 2 and 1/2 cups
• White Sugar – 3/4 cup
• Baking Powder – 1 and 1/2 tsp
• Baking Soda – 1 tsp
• Salt – 1/4 tsp
• Orange Zest (Zest of about 3 oranges) – 1/2 tsp
For Wet Ingredients:
• Milk.(almond milk for vegans) – 1 cup
• Orange Juice, freshly squeezed. (canned gives a bitter taste) – 3/4 cup
• Melted Butter/Oil – 1/2 cup
• Vinegar (apple cider vinegar/ white vinegar) – 1 tbsp
• Vanilla Extract – 1 tbsp
Preparation:
1. Preheat oven to 350F/180C for 15 minutes. Prepare muffin tins by lightly greasing it with cooking spray or lining it with paper liners.
2. In a large bowl whisk together the dry ingredients and make a well.
3. Add the wet ingredients into the dry mix one by one, stirring with a whisk simultaneously. Don't be bothered by some small lumps. Do not be tempted to dissolve the lumps by mixing the batter with an electric beater, else the cake caves in on baking.
4. Fill each muffin cup 3/4th full, which is about 3 tablespoons of batter for each cupcake. Bake for about 13-16 minutes or until a toothpick inserted in the center of the cupcake comes out clean.
5. Remove the pan/s from the oven and allow it cool for about 5 minutes on a cooling rack. Then take out the cupcakes from the pan and let it cool on the rack completely before frosting, if you decide to.
Serve to the Lord and enjoy the mercy.
Yields: 15-16 standard cupcakes.
And 3 dozen mini cupcakes
By Bhaktin Meena