Baked Zucchini Strips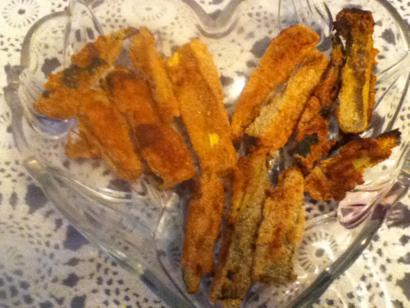 Ingredients
• 1-2 Zucchini cut into 3×1/2 inch sticks
• Yogurt – ½ cup
• Salt (or as per taste) – ½ tsp
• Jeera powder – 1 tsp
• Red chillie powder (or as per taste) – ½ tsp
• Breadcrumbs – ½ -1 cup
Preparation
1. Heat oven to 425 F.
2. Spray a baking sheet with oil.
3. Add salt, red chillie powder, jeera powder to the well beaten yogurt.
4. Coat zucchini sticks with yogurt.
5. Press into crumb mixture a few at a time. Coat it well.
6. Arrange on baking sheet. Bake 25-30 minutes, until golden brown and tender.
7. The outside will be crisp and the inside will be soft.
8. Serve hot with green chutney/tomato ketchup/tamarind chutney.
By Bhaktin Meena