Wheat Germ Corn Muffins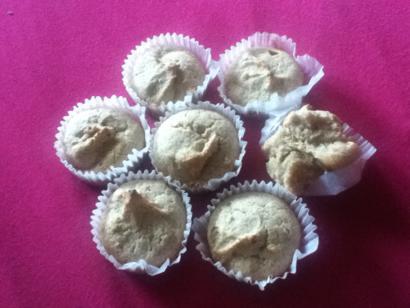 Ingredients
• Unbleached white flour (I used wheat flour- as it is healthier) – 1 cup
• Wheat Germ- ½ cup
• Regular Cornmeal- ½ cup
• Sugar-3tbsp
• Baking powder-1tsp
• Salt- ½ tsp
• Milk- 1 cup
• Yogurt- ¼  cup
• Butter- ¼ cup melted
Prepration
1. Place 12 paper bake cups in a muffin pan, or grease the muffin pan.
2. Stir together flour, Wheat germ, cornmeal, sugar, baking powder and salt.
3. Make a well in the center.
4. Combine yogurt, milk and melted butter. Add all at once to  the center of the  flour mixture.
5. Beat to a soft batter with an electric batter at low speed. The batter will be thick.
6. Pour the batter into a cone and pipe it into 12 muffin cups.
7. Bake at 400F for 20 minutes or till muffins are lightly browned. (I used wheat flour, hence it was not browned as the white flour would)
8. Serve warm to the Lord and then to others.
9. Good as healthy tasty snacks for kids of all ages.
By Bhaktin Meena