Eggplant Curry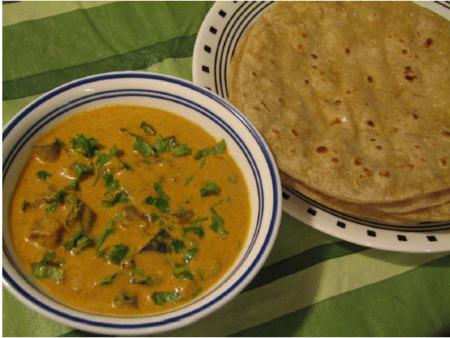 •
1 (1 lb/500g) medium sized eggplant cut into cubes
•
1 sprig fresh curry leaves
•
2 Tbsp fresh coriander leaves
1.Heat 4 Tbsp of ghee/oil in a pan and pan fry the eggplants until soft and they turn brownish in color. Drain on paper towels.
2.Heat remaining 1Tbsp ghee/oil in a saucepan over moderate heat. Drop the cinnamon, cloves, fennel, star anise, asafetida and
curry leaves. Stir-fry until aromatic. Pour the blended tomato paste. Add the spice powders, salt and sugar. Reduce the heat and
cook partially covered over low heat until the ghee/oil oozes out from the tomato spice paste.
3.Whisk the yogurt in a small bowl. Add to the tomato gravy and mix well. Remove the saucepan from heat. Fold in the eggplants.
Garnish with fresh coriander leaves and serve with chapatis.
4-5
By Anand Lila Devi Dasi