Feta & Potato Spring Rolls with Green Pea Chutney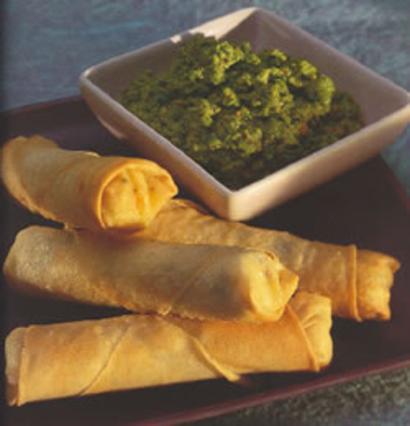 Ingredients:
• Potatoes, peeled and cut into large chunks – 600g (1¼ pounds)
• Butter – 4 tbsp
• Feta cheese, cut into tiny cubes – 200g (7 ounces)
• Salt, depending on the saltiness of the feta – ½-1 tsp
• Freshly ground black pepper – 1 tsp
• Fresh mint, coriander or parsley, chopped – 1-2 tbsp
• Spring roll wrappers – 16
• Cornflour (cornstarch), made into a paste with a little cold water – 1 tsp
• Oil for deep-frying,
• Green pea chutney to serve (recipe follows).
For Green Pea Chutney:
• Almonds, pan toasted until golden, and chopped – 1/3 cup
• Frozen peas, defrosted – 1 cup
• Grated fresh ginger – 1 tsp
• Water – 2-3 tbsp
• Fresh lime juice – 2 tsp
• Fresh coriander leaves – ¼ cup
• Salt – 1 tsp
• Freshly ground pepper – ½ tsp
Preparation:
1. Boil the potatoes in lightly salted water until soft. Mash them thoroughly with the butter, and fold in the feta, salt, pepper and herbs.
2. Divide the mixture into 16, and roll each portion into a log about 12cm (4½ inches) long. Place a log near the corner of a spring roll sheet.
3. Roll the sheet over the filling, tuck in the sides, and roll up tightly. Seal the final corner with a dab of paste. Continue filling the remaining spring rolls. Heat the oil over moderate heat until fairly hot.
4. Deep-fry the spring rolls, turning once, for about 45 seconds, or until lightly browned, and drain on paper towels.
5. Serve hot or warm with the green pea chutney.
For Green Pea Chutney:
1. Pulse the toasted almonds in a food processor until finely minced.
2. Add the remaining ingredients and process until smooth. If you prefer a looser consistency, add a little more water and pulse again.
3. Serve with the spring rolls. Makes about 1¼ cups.
By Kurma