Flattened Rice Pilaf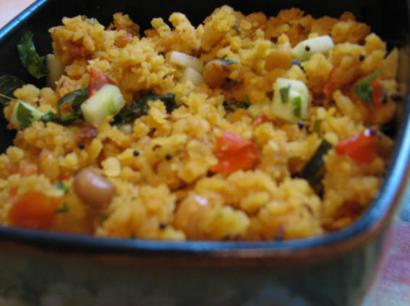 •Flattened rice, thick type (poha)…………………………2 C
•Yogurt……………………………………………………………1 C
•Ghee/oil………………………………………………………..2Tbsp
•Black mustard seeds…………………………………………1 Tsp
•Cumin seeds……………………………………………………1 Tsp
•Yellow asafetida powder………………………………….½ Tsp
•Chana dal………………………………………………………2Tsp
•Urad dal………………………………………………………..1Tsp
•Peanuts………………………………………………………….½C
•Coconut grated……………………………………………….¼ C
•Fresh curry leaves…………………………………………….8-10
•Ginger finely grated…………………………………………1 Tbsp
•Green chilies…………………………………………………..2
•Tomatoes chopped…………………………………………..3big
•Turmeric powder……………………………………………..½ Tsp
•Sambar powder………………………………………………1 Tsp
•Salt………………………………………………………………..1½Tsp
•Chopped fresh coriander leaves…………………………2Tbsp
•Cucumber peeled and Diced into 1cmcubes……………………………………….½
Flattened Rice Pilaf
1) Wash the flat rice in water and drain. Combine it with the yogurt and keep aside for 10-15 minutes.
2) Heat the ghee/oil in a pan over moderate heat, Add mustard seeds and when they crackle and pop, drop in the cumin, stir until they darken a few shades.
3) Now add asafetida, chana dal, urad dal and peanuts and fry them until golden. Add coconut, curry leaves, ginger, chilies and sauté for a while. Add the tomatoes and stirring often; cook until the tomatoes turn pulpy. Add the turmeric, sambar powder, salt and cook for another 2-3 minutes.
4)Stir in the flat rice, gently toss, cover and cook over low heat for 10 minutes. Garnish with coriander leaves and cucumber.
By Anand Lila Devi Dasi