Fresh Coconut and Mint Chutney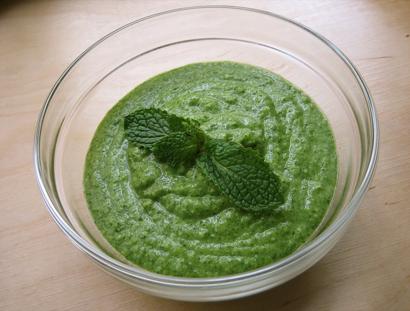 Most people become addicts with their first taste of coconut chutney, and several south Indian dishes are never served without it. In this variation, fresh mint lends alternatively to fresh. It is available at some supermarkets and many Hispanic grocery stores.
Preparation time (after ingredients): 15 minutes
Ingredients
• Hot jalapeno chilies, seeded and chopped – 1-2
• Scraped fresh ginger root, sliced – 1/2 –inch (1.5 cm)
• Whole almonds or cashews, blanched – 10
• Water – 1/3 cup (80 ml)
• Lemon or lime juice – 2 table spoons (30 ml)
• Raw sugar or maple syrup – 1 table spoon (15 ml)
• Salt – 1 teaspoon (5 ml)
• Trimmed fresh mint, lightly packed – 1/3 cup (80 ml)
• Grated fresh or defrosted (140 g) frozen coconut, lightly packed – 1 cup (85 g)
Preparation
Fit a food processor with the metal blade, or use a blender. With the machine running, drop in the chilies and ginger and process until minced. Add the nuts, pulse four or five times, then process until ground. Add the water, juice, sweetener, salt and mint, and process until smooth. Stop the machine, add the coconut, and continue to process until the chutney is creamy and smooth. (For a thinner consistency, add plain yogurt or milk as desired). To accompany South Indian dishes, the consistency should be fairly thick; as a dipping sauce, it can be thinner. Serve at room temperature or chilled. Well covered and refrigerated, the chutney can be kept for 1-2 days.
Make
about 1 ¼ cups (300 ml)
By Yamuna Devi Dasi