Fried Bitter Melon Chips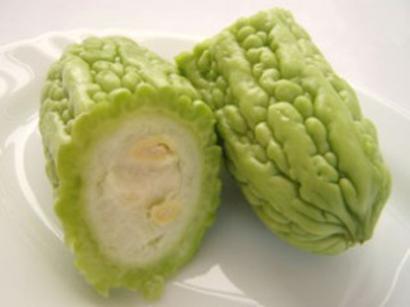 Ingredients
• Bitter melons, about 250g – 4 small or 2 medium-sized
• Salt
• Turmeric – 1/4 tsp
• Cayenne pepper – 1/4 tsp
• Rice flour or 1 tablespoon rice flour and 1 tablespoon chickpea flour – 2 tbsp
Preparation
1. Trim the ends off the bitter melons. Slice them in half lengthways, remove the seeds and then slice them lengthways into long strips, 0.5cm (1/4-inch) wide. Cut the strips into lengths about 3.75cm (1/1/2 inches). Alternatively, cut each half crosswise to yield semi-circular strips of melon.
2. Place the bitter melon pieces in a bowl, sprinkle liberally with salt and place a weight on them. Set them aside for at least half an hour.
3. Rinse the melon pieces under running water and drain them. Pat them with paper towels until they are almost dry.
4. Pour 5cm (2 inches) oil or ghee into a deep-frying vessel. Place the pan over moderate heat and bring to a temperature of 190 C/375 F.
5. Sprinkle the turmeric, cayenne and flour over the melon pieces and toss gently to coat. When the oil is hot, drop in a small handful of flour-coated melon chips. Fry them for about 2 1/2 minutes, or until crisp and golden.
6. Remove and drain them on paper towels. Fry the remaining bitter melon chips in batches. Serve hot, warm or room temperature. For extra crispness, I like to double-fry the melon chips: allow the cooked chips to cool, then fry again briefly in hot oil.
By Kurma