Golden Mung Dal Soup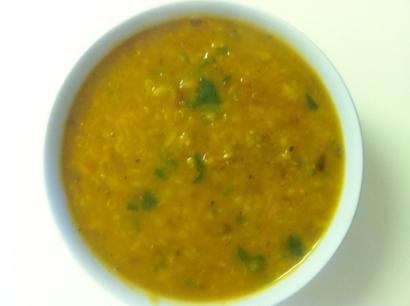 This is a variation of the simple dal soup, using the same ingredients as the previous recipe, but a different seasoning procedure changes the flavor considerably. The contrast between these recipes shows the possibilities of using different procedures to produce varieties of flavors. This dish will go well in any lunch menu, such as a rice, salad and vegetable of your choice.
Preparation time (after assembling ingredients): 10 minutes
Cooking time: 1 ¼ hours or 25 minutes in a pressure cooker
Ingredients
• Split moong dal, without skins – 2/3 cup (145 g)
• Water (5 ½ cups/1.3 liters if pressure- cooked) – 6 ½ cups (1.5 liters)
• Turmeric – ½ teaspoon (2 ml)
• Ghee or vegetable oil – 2 table spoons (30 ml)
• Coriander seeds – ½ table spoon (7 ml)
• Cumin seeds – ½ table spoon (7 ml)
• Salt – 1 teaspoon (5 ml)
• Scraped, finely shredded or minced fresh ginger root – 2 teaspoons (10 ml)
• Minced seeded hot green chilli (or as desired) – 1 teaspoon (5 ml)
• Minced fresh parsley or coarsely chopped coriander – 2 table spoons (30 ml)

Preparation
1. Sort, wash and drain the split mung beans as explained on page 21.
2. Place the mung beans, water, turmeric and a dab of the ghee or oil in a heavy 3-quar/liter nonstick saucepan and, stirring occasionally, bring to full boil over high heat. Reduce the heat to moderately low, cover with a tight-fitting lid and boil gently for 1 hour or until the dal is soft and fully cooked. For pressure cooking, combine the ingredients in a 6-quart/liter pressure cooker, cover and cook for 25 minutes under pressure. Remove from the heat and let the pressure drop by itself.
3. Meanwhile, slowly dry-roast the coriander and cumin seeds in a heavy iron frying pan for about 8 minutes. Remove and coarsely crush with a mortar and pestle, kitchen mallet or rolling pin.
4. Off the heat, uncover the dal and add the salt and roasted spices. Beat with a wire whisk or rotary beater until the dal soup is creamy smooth.
5. Heat the ghee or oil in a small saucepan over moderately high heat. When it is hot, toss in the ginger root and green chilli. Fry until golden brown, then pour into the soup. Cover immediately and let the seasoning soak into the hot dal for 1-2 minutes. Sprinkle in the minced herb, stir and serve.

Serves:
4

By Yamuna Devi Dasi