Govardhan Banana Cake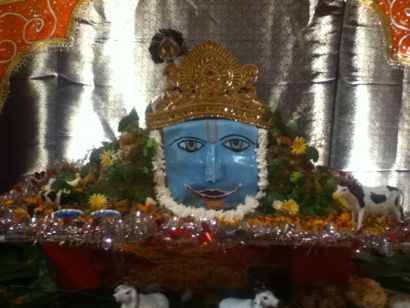 Ingredients
• Ripe banana mashed – 1 cup
• Rava- 1 cup
• Sugar- 1/2 cup
• Baking powder -1 tsp
• Cardamom powder- 1/2 tsp
• Oil -1/4 cup
• Butter-melted- 1/4 cup
• Walnuts- 1/4 cup (optional)
• Brown colour – 3-4 drops
For the Govardhan look
• Ganache Icing
• Broccoli- 200 gms/a small bunch
• Bitter Gourd/karela- 3-4, cut at the base to make it stand
• Some real flowers/flowers made from butter cream icing
• Some plastic animals like cow, deer, hen, buffalo.
• Blue colour
• Fondant- to make the face, 1-4 days before.
For Ganache Icing
• Carrob chips – 4.5-5 ounz
• Whipping cream – 1/3 cup
Preparation
1. Preheat oven to 375 F
2. Mix Rava, sugar, cardamom, baking powder.
3. Add butter. Mix.
4. Add oil. Blend well.
5. Add banana.
6. Add colour and walnuts.
7. Mix till soft and creamy- approximately for 10 minutes.
8. Put in a 6 inch round pan which is greased and powdered with flour, or lined with parchment paper, or sprayed with baking spray.
9. Bake at 375 F for 30-35 minutes or till toothpick comes out dry.
10. Remove when cool.
Preparation For the Govardhan look
1. Add blue colour to the Fondant. Mix well with hand.
2. Roll it flat and shape it like a face. Allow to dry for few hours or a day.
3. Make the nose and nostril from a separate blue fondant with the help of your two fingers or two round spoons/pencil.
4. Allow it to dry for few hours/ a day.
5. Attach it on the face with the help of gum paste liquid( made by putting half spoon of gumpaste in 2-3 tbsp of water and keeping it for 5 mintes till the paste dissolves). Allow to dry overnight.
6. Paint the eyebrows and eyes with coloured icing with tube insert number 3.
Preparation For Ganache Icing
1. Boil whipping cream on very low gas, add broken carrob chips. Stir well till chips are melted.
Preparation for Govardhan look
1. Crumble 2-3 tbsp of cake from its edges and make small balls of varying sizes to give the stone/pebble look.
2. Slice the cake in half and spread butter cream icing / whipped cream icing.
3. Arrange the cake to look like a mountain. Press from the sides. Dont worry about the cake breaking.
4. Spread the stone and pebble looking cakes on the edges and on top of the cake.
5. Pour Ganache icing over the cake.(if the liquid ganache cools, it becomes thick- so pour quickly when hot. U can make more immediately if you want a thicker coating. mildly heat the cooled ganache to make it pouring consistency.)
6. Add the Govardhan Face
7. Cut broccoli, brinjal, Cilantro(kotmir) to look like mini bushes and trees. Arrange it on the cake.
8. Put real flowers/ flowers made from butter cream icing on the cake.
9. Put animals like cows, hens, buffaloes, deers on and surrounding the cake.
Serves
5-6 persons.
By Bhaktin Meena