Green Beans with Coconut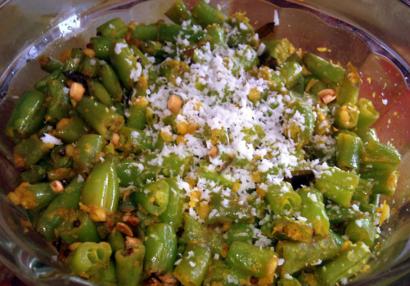 There are innumerable popular green bean and coconut variations in Hyderabad's Vaishnava kitchens, this one from the home of S.K.Sethi. The contrast of bright green beans against snow-white coconut speckled with black mustard seeds and reddish urad dal makes this an attractive yet simple dish. For extra protein, if you do not have urad dal, use 3 table spoons (45 ml) of chopped peanuts. You can steam the beans ahead of time and assemble the dish just prior to serving.
Preparation time (after assembling ingredients): 5 minutes
Cooking time: 10 minutes
Ingredients
• Chana dal and raw rice – 1 table spoon (15 ml) each
• Minced seeded hot green chilies (or as desired) – 2
• Water – 3 table spoons (45 ml)
• Ghee or sesame oil – 5 table spoons (75 ml)
• Split urad dal or 3 table spoons (45 ml) chopped peanuts or almonds – 1 table spoon (15 ml)
• Black mustard seeds – 1 teaspoon (5 ml)
• Curry leaves, if available – 8-10
• Yellow asafetida powder (hing) – ¼ teaspoon (1 ml)
• Green beans, trimmed and cut into ¼ -inch (6 mm) pieces and steamed until nearly tender – 1 pound (455 g)
• Salt – 1 teaspoon (5 ml)
• Freshly ground black pepper – 1/8 teaspoon (0.5 ml)
• Grated or defrosted frozen coconut (140 g) – 1 cup (85 g)
• Chopped fresh dill, fennel or coriander – 3 table spoons (45 ml)
Note: This amount applies only to yellow Cobra brand. Reduce any other asafetida by three-fourths.

Preparation
1. Grind the dal and rice in a spice mill until powdered. Transfer to a bowl and stir in the green chilies and water. Mix well. Heat the ghee or oil in a large heavy-bottomed nonstick frying pan over moderate heat. When it is hot but not smoking, add the urad dal, peanuts or almonds and fry for 15 seconds or until they begin to turn light brown. Follow with the mustard seeds and fry until they gray and pop. Drop in the curry leaves and asafetida and seconds later, pour in the dal-rice mixture. Cook until the mixture is dry, then follow with the green beans, salt and pepper. Sauté, shaking the pan, until the beans are heated through, adding the coconut and fresh herb at the last moment. Toss to mix.

Serves
4or 5

By Yamuna Devi Dasi