Green beans with Water Chestnuts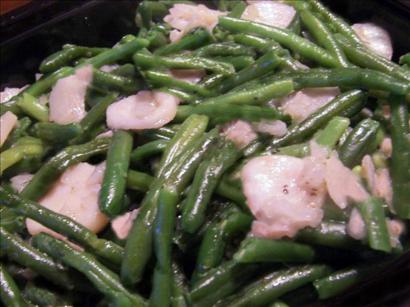 The water chestnut is a floating water plant growing in lakes and ponds on several continents. The fruits are angular, with brown skins and a white, floury nut inside –refreshingly crisp and delicious. There are several kinds. Singhara nuts, grown in the lakes of Kashmir, are eaten as snacks or blanched, sliced, dried and ground into flour. Chinese water chestnuts, or pi-tsi, are not really nuts, but tubers, deriving their name from their resemblance to the water chestnut. They are available in small cans, sliced or whole, in supermarkets. The South American tuber called Jicama is a readily available fresh substitute for canned water chestnuts. Use whichever kind you can find easily. To prepare fresh water chestnuts, cut with a sharp knife from the crown to the base and peel away the soft, brownish casing. Blanch, slice and soak in water until used.
Preparation time (after assembling ingredients): 5 minutes
Cooking time: 10 minutes
Ingredients
• Black mustard seeds – 1 tea spoon (5 ml)
• Melted ghee or unsalted butter – 3 table spoons (45 ml)
• Fresh ginger root, scraped and cut into thin julienne – 1-inch (2.5 cm) piece
• Green beans, trimmed, cut into ½ inch (1.5 cm) lengths and steamed until tender-crisp – 1 pound (455 g)
• Paprika or cayenne pepper – ¼ teaspoon (1 ml)
• Ground coriander – 1 teaspoon (5 ml)
• Water chestnuts, peeled and sliced; or 1 small Jicama, peeled, trimmed and cut into pieces about 1 inch (2.5 cm) square by 1/8 inch (3 mm) thick; or one 10 –ounce (285 g) can of sliced water chestnuts, • Drained and rinsed – 12
• Fresh lime juice – 2 table spoons (30 ml)
• Salt – 1 teaspoon (5 ml)
• Chopped fresh coriander, basil or parsley – 2 table spoons (30 ml)

Preparation
Preheat a large heavy-bottomed frying pan over moderate heat. Drop in the mustard seeds, and when they begin to pop add the melted ghee or butter. Drop in the ginger, green beans, paprika or cayenne, ground coriander and water chestnuts or Jicama, and sauté until the green beans and water chestnuts are heated through. Add the lime juice, salt and fresh herb at the last moment.

Serves:
4-6
By Yamuna Devi Dasi