Green Split Pea Soup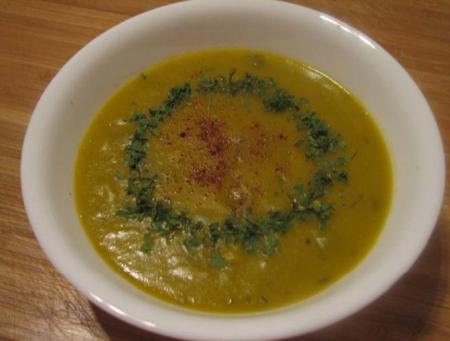 Ingredients
•1 C green split peas
•5-6 C water
•2 carrots, peeled and cut into big chunks
•2 tomatoes, peeled and chopped
•1 bay leaf
•1½ Tsp butter
•½ Tsp yellow asafetida powder
•2 Tsp dried celery (or 1 stalk of fresh celery)
•1½ Tsp salt
•¼ Tsp ground black pepper
•¼ Tsp paprika or red chili powder
•2 Tsp dried Parsley (or 2 Tbsp chopped fresh parsley)
Preparation
1.Combine the split peas, water, carrots, tomatoes and bay leaf in a saucepan over moderate heat. Bring it to a boil over moderate heat and simmer for 40-50 minutes or until the split peas are broken down and mushy. Alternately you can pressure cook the split peas with the vegetables.
2.Transfer the contents of the saucepan to a blender and blend to a creamy puree.
3.Rinse the saucepan with water. Melt the butter slowly over moderately low heat; sprinkle the asafetida, add celery and sauté for a while. Add the blended mixture. Add salt and pepper and cook over low heat for 5-10 minutes. Serve hot with sprinkles of paprika and parsley.
Serves
4-6
By Anand Lila Devi Dasi