Green Tomato Pakora with Cornmeal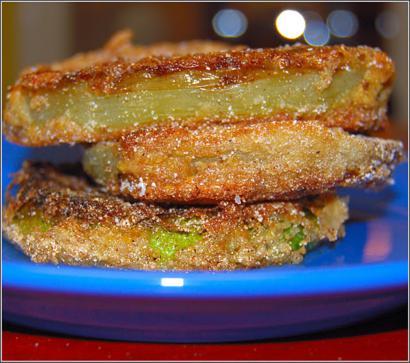 If you have a trouble patch or even one plant on the patio, harvest 3 or 4 tomatoes when they are green and try this delicious dish. Alternatively, you can purchase green or firm red tomatoes, but if they are soft and ripe, they will exude too much moisture when heated. Though cornmeal makes the most flavorful coating, a mixture of half semolina and half chickpea flour is also pleasant. Semolina flour is sold at Indian grocery stores, large health food stores and is supermarket gourmet aisles. If you wish, season the coating with 1 teaspoon (5 ml) of any dried herb, such as crushed summer savory, marjoram, oregano, chervil or basil.
Preparation and drying time: 15 minutes
Cooking time: 15 minutes
Ingredients
• Green tomatoes – 4 medium-sized
• Yellow or white cornmeal, preferably stone-ground, or 1/3 cup each semolina (70 g) and chickpea flour (30 g) – 2/3 cup (95 g)
• Salt – 1 ½ teaspoons (7 ml)
• Cracked black pepper – ½ teaspoon (2 ml)
• Cayenne pepper or paprika – 1/8 teaspoon (0.5 ml)
• Coarsely crushed cumin seeds – 2 teaspoons (10 ml)
• Ghee or a mixture of vegetable oil and unsalted butter – 4 table spoons (60 ml)

Preparation
1. Slice the tomatoes, unpeeled, about ½ inch (1.5 cm) thick and save the ends for another use. Pat the slices dry with paper towels. Combine the cornmeal or semolina-chickpea flour mixture, salt, pepper, cayenne or paprika and crushed cumin seeds in a pie dish, and mix well. Press both sides of each tomato slice in the coating and set on a cake rack to air-dry for 5-10 minutes.
2. Place 2 table spoons (30 ml) of the ghee or oil-butter mixture in a large heavy nonstick or cast-iron skill set over moderately high heat. When it is hot but not smoking, place in the pan as many coated slices as will easily fit. Fry until the bottoms are lightly browned, about 1 ½ minutes, then turn with tongs or a spatula and brown the second side. Remove and fry the remaining coated slices, adding ghee or the oil-butter mixture as necessary. Serve hot.

Serves
4 to 6

By Yamuna Devi Dasi