Griddle fried cheese stuffed wheat bread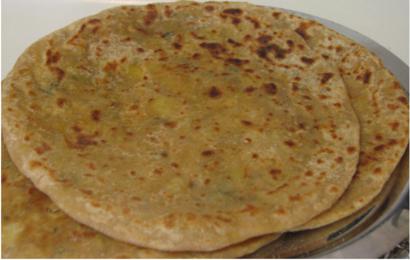 Ingredients
Dough:
•Wheat flour…………..2 C
•Salt………………………½ Tsp
•Oil……………………….2 Tsp
•Water…………………..½ – ¾ C
•(little less or more)
•Extra flour for dusting
•Ghee for cooking the parathas
Stuffing:
•Paneer, grated…………………………..350gms
•Ginger, minced…………………………..1 Tbsp
•Green chilies……………………………..3
•Turmeric powder………………………..¼ Tsp
•Asafetida…………………………………..¼ Tsp
•Garam masala……………………………1 ½ Tsp
•Amchur powder…………………………1 Tsp
•(dry mango powder)
•Ajwain seeds……………………………..1 Tsp
•Chopped fresh coriander leaves…..2 Tbsp
•Salt…………………………………………..1 ¼ Tsp
Preparation
1)Mix the wheat flour and salt. Making a well in the center, add the oil. Add enough water to make soft, smooth and firm dough. Keep it aside for 1 hour to rest.
2)Mix all the ingredients for the stuffing except salt and keep aside for 1 hour.
3)After 1 hour, divide the dough in 8 equal balls. Add salt to the stuffing, and divide in 8 parts.
4)Now roll each ball of the dough into a disc of 3- 3 ½ inch in diameter. Place the stuffing over the disc and gather the ends of the disc carefully so that the stuffing doesn't come out. Gently press to seal.
5)Now flatten each ball of dough lightly and on a floured surface, with the help of a rolling pin, roll into a disc of 6 inch in diameter.
6)Heat a griddle, spray the surface with little ghee, and transfer the rolled disc. When the top surface shows bubbles, turn it over and cook on
reverse side. Now, sprinkle some ghee over the top of the disc and cook for 30-40 seconds. Turn again and drizzle some ghee on this surface too. Press around the edges. The paratha is done when both sides are golden brown in color.
7)Serve hot with yoghurt, jam, any chutney or pickle of your choice.
Serves
Eight Parathas
By Anand Lila Devi Dasi