Guilt free chivda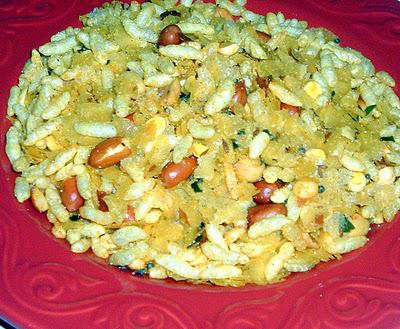 Ingredients
• Oil – 2-3 tbsp
• Kurmura/puffed rice – 2 cups
• Thin poha – 2 cups
• Peanuts – ½ cup
• Raisins – 2 tbsp
• Dalia/roasted chana dal – 2 tbsp
• Curry leaves torn into small pieces – 10
• Green chilies finely chopped – 3
• Mustard seeds – 1 tsp
• Cumin seeds – 1 tsp
• Turmeric – ½ tsp
• Red chili powder – 1-2 tsp
• Sugar – 2 tsp
• Salt to taste
Preparation
1. Spread the kurmura on a plate and microwave for 2 minutes to crisp it.
2. Stir the kurmura in between so it does not burn.
3. Do the same with the thin poha.
4. Microwave the peanuts for about 3-4 minutes till they crisp. Remove and keep aside
5. Heat oil in a wide pan; when the oil heats, add the mustard seeds and cumin seeds.
6. When they crackle, reduce the gas to low flame and add curry leaves and green chilies.
7. Fry for a minute, then add the peanuts, raisins and dalia, fry on low flame till everything is little fried and crisp.
8. Then mix turmeric, red chili powder, salt and sugar.
9. Add the poha and kurmura, mix well and cook on low heat for 5-6 minutes, stirring continuously.
10. Remove from heat. Cool completely and then store in an air tight container.
Serves
5-6 Persons
By Bhaktin Ranjana