Harmonium Orange cake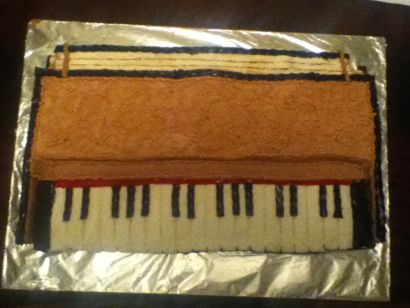 Ingredients
• All purpose flour- 1 1/2 cup
• Baking soda – 1/2 tsp
• Baking powder- 1 tsp
• Sunflower/vegetable oil- 1/2 + 1tbsp oil
• Sugar/ castor sugar- 3/4 cup
• Yoghurt- 1/4 cup
• Orange juice (preferably fresh)- 3/4 cup
• Orange peel (scrapped)- 1tsp
For Butter Cream Icing
• Vegetable Shortening – 1cup
• Confectioners sugar- 1 pound/500 gm
• Vanilla essence- 1tsp
• Water- 7-8 tsp
• Salt- a pinch
• Brown colour- 3-4 drops.( for 1 cup of butter icing )
Method
1. Mix flour, soda, baking powder properly.
2. In a separate bowl, mix oil, sugar and yoghurt well
3. Add the liquids in number 2 to the dry powders in number 1. Beat well.
4. Add orange juice and the peel to add that extra zest and zing
5. Bake in a preheated oven at 350 F for 30-35 minutes or till toothpick comes out dry.
For Harmonium Shape
1. Keep a picture or a real harmonium in front of you and shape the edges of the cake accordingly. Divide the cake in 3 parts with a toothpick. The front part is the smallest in height, followed by the middle which is slightly taller and the back part is the tallest.
2. Crumb coat the cake with a basic layer of butter icing. Refrigerate for 15-20 minutes and ice again only the middle and back thirds of the cake with brown icing.
3. Use chocolate wafers or glucose biscuits cut carefully with a wet knife to elevate the front bilateral sides of the harmonium.
4. The keys were done with a lot of butter icing. Refrigerate for 15-20 minutes. Then slowly make fine cuts on it with a butter knife, to make it look like keys.
5. Line the borders of the cake with black icing or black non gelatin based candy sticks.
6. Pipe a red border with tube number 4/5 at the end of the white keys.
7. Pipe black icing /put black candy for the black keys. Be careful in spacing.
8. For the bellows at the back, cut off a small piece of cake from both the sides, make thin lines to denote the number of bellows. Pipe brown colour with tube 3 to show closed bellows.
9. In the end decorate the brown cover of the harmonium in any s shaped, zig zag pattern or any other style you like.
10. Make small stops or extra notes in the front of the harmonium with a round button shaped candy or ice them with black/white coloured icing, round and round with tube 3. You can make alternate big stops and alternate small sized stops.
By Bhaktin Meena