Ekadashi Ram Kutiya Cake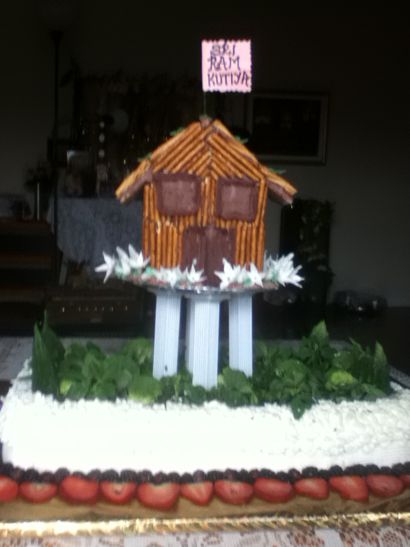 Ingredients
• 1 1/4 cups milk powder
• 1 1/4 cups potato flour/Rajgira atta/ Amaranth flour
• 1 cup castor sugar
• 1 teaspoon soda bicarb
• 1/4 cup butter- melted
• 1/2 cup grated coconut- roasted
• 2 mashed bananas
• 1/2 cup yogurt
• Finely grated rind of one lemon and one orange
• 1/2 cup chopped roasted hazelnuts/almonds/cashews
For Whipped Cream Icing
• 1 cup (240 ml) heavy whipping cream (double cream).
• 1/2 teaspoon vanilla essence.
• 1 – 2 tablespoons (15-25 grams) sugar, or to taste.
• 1/2 cup lightly sweetened strawberry puree or strawberry jam (optional).
For Eggless Royal Icing
• Confectioners sugar- 1 cup
• Milk/water/rice milk- 2 1/2 tsp
• Light corn syrup-3 tsp
• vanilla essence/almond essence-1/4tsp (optional)
Method
For Ekadashi Cake
1. Butter and flour 10-inch cake tin, or for a deeper cake, an 8-inch tin. Set oven to 330 F.
2. Sift together the milk powder, potato flour, sugar and bicarb.
3. Melt the butter and lightly roast the coconut in it.
4. Mash the bananas and mix in the yogurt, the rind and the butter-toasted coconut.
5. Add the dry ingredients and nuts and beat with a spoon.
6. Pour into a 10 or 8 inch round/rectangle tin and bake for 20 to 30 mins.
7. Test with a toothpick, remove when done. Let it rest for ten minutes and then turn out onto rack.( This cake does not rise as other cakes)
8. When cool, split and fill with whipped cream and fresh fruit, and/or jam.
9. Ice with beaten heavy cream mixed with sugar.
10. Decorate with with freshly grated coconut (optional) or dry fruits or different coloured fresh fruits for dramatic effect.
For Whipped Cream Icing
1. The trick to making Whipped Cream Frosting is to first chill all the ingredients, the bowl, the wire whisk and even the icing cone along with the tube with which the decoration has to be done, as this will help the cream reach its maximum volume when beaten. If you have the time place the ingredients in your mixing bowl, cover with plastic wrap, and place in the refrigerator, along with the wire whisk, for about 30-60 minutes. However, if you are short on time, just place your mixing bowl and whisk in the freezer for about 15 minutes
Method For Plain Whipped Cream Icing
1. Place your mixing bowl and wire whisk in the freezer for about 15-30 minutes.
2. Then place all the ingredients in the cold bowl and beat until STIFF peaks form.
3. If not using immediately, cover and refrigerate.
4. Makes about 2 cups (480 ml) whipped cream.
Method for Strawberry Whipped Cream
1. Make the whipped cream frosting but beat only until SOFT peaks form. Then add the sweetened strawberry puree or strawberry jam, a little at a time, and beat just until STIFF peaks form. Taste and fold in more sugar or puree, as needed.
For Icing Theme
1. The cake icing was done in 3 layers
The bottom layer was iced with Icer tip 789, the middle layer was rose swirls with tip 2D and the top layer was leaves with tip number 352.
For Ram Kutiya house (NON EKADASHI )
1. The house was made with Graham cracker biscuits, eggless royal icing, thick pretzel sticks for the roof and thin pretzels sticks for the walls.
2. Join the crackers/biscuits with eggless royal icing to make the walls and roof of the house. Cut a cracker in half to make open doors and windows. Decorate with brown icing. Stick the doors and windows on the walls with icing and outline it too. Stick the pretzels on the remaining crackers with the help of whipped cream or butter icing
For Eggless Royal Icing
1. Combine Confectioners sugar, milk, corn syrup and essence with an electric beater on low speed for 3-4 minutes or till well blended. Immediately put in the icing cone. Cover the vessel containing the remaining royal icing with a wet cloth. If its too thick, then add little corn syrup.
By Bhaktin Meena and Bhaktin Sudevi