Sudarshan Chakra Blueberry Cake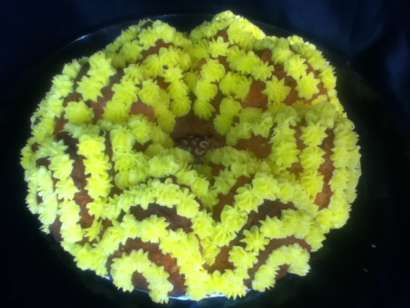 Ingredients
1. All purpose flour/Maida- 1 1/2 cup
2. Sugar- 3/4 cup
3. Salt- 1/2 tsp
4. Baking powder- 2tsp
5. Vegetable oil- 1/3 cup
6. Egg replacer- 1 tbsp or Yoghurt- 1/4 cup
7. Milk- 1/3 cup
8. Fresh Blueberries- 1 cup
Method
1. In a bowl, mix maida, sugar, salt and baking powder properly on low speed hand held blender for 1/2-1 minute.
2. Gradually add Milk. Mix well with the blender at low speed.
3. Add Yoghurt and mix till its well incorporated.
4. Add oil and beat on medium speed till dough is soft and creamy.
5. Add 1 cup fresh blueberries and mix well with a fork.
6. Grease and powder the 8 inch round tube baking pan with flour.
7. Bake in a preheated oven at 400 F for 20-25 minutes.
8. Let Cool for 30-40 minutes. It should cool completely before icing is done.
9. Remove from the pan and decorate with yellow coloured buttercream icing with star tip 21 from the inside going towards the outside of the cake in a zigzag motion/ linear motion/flowery dots to represent the spikes of the Sudarshan Chakra.
Butter Cream Icing
Ingredients
1. Vegetable shortening-1/2 cup
2. Soft Butter/margarine- 1/2 cup
3. Vanilla extract- 1 tsp
4. Confectioners sugar- 4 cups/ 1 lb
5. Milk- 2 tbsp
6. Yellow colour- 1/4 tsp or till desired colour achieved.
Method
1. In a large bowl, cream shortening and butter with electric mixer.
2. Add vanilla extract.
3. Gradually add sugar, one cup at a time, beating well on medium speed. Scrape sides and bottom of bowl often. When all sugar has been mixed in, icing will appear dry.
4. Add milk and yellow colour and beat at medium speed until light and fluffy. Keep bowl covered with a damp cloth until ready to use.
Serves: 15-20 depending on the size.
By Bhaktin Meena