Herbed Bread Rolls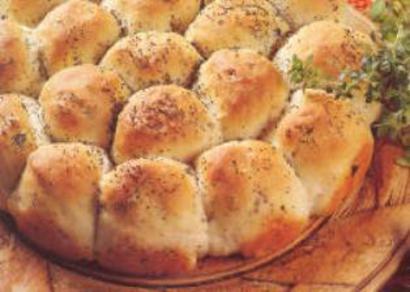 Ingredients:
• Dried yeast – 1 tsp
• Warm water – about 1¼ cups
• Sugar – 1 tsp
• Plain unbleached bread flour – 3 cups
• Salt – 1 tsp
• Oil – 3 tsp
• Fresh thyme leaves, minced – 1 tsp
• Fresh oregano leaves, minced – 1 tsp
• Fresh basil leaves, chopped – 2 tsp
• Yellow asafetida powder – ½ tsp
• Poppy seeds, sesame seeds, fine oatmeal or dried herbs for topping
Preparation:
1. Combine the yeast, a few teaspoons of warm water, and the sugar in a small bowl. Set aside for 10 minutes, or until the mixture is frothy.
2. Whisk together the flour and salt.
3. Add the oil, herbs and yellow asafetida powder to the frothy yeast mixture.
4. Make a well in the centre of the flour and pour in the yeast mixture. Add three-quarters of the warm water, and mix. Add enough of the remaining water, if required, to make a soft but non-sticky dough. Knead the dough for 5-8 minutes.
5. Place the dough in an oiled bowl, cover with plastic wrap and leave in a warm place for one hour, or until doubled in bulk.
6. Punch down the dough and divide into 18 even-sized pieces. Shape them by rolling them around under cupped hands on a floured board or marble slab, then arrange them fairly close together in a lightly oiled, 25cm (10-inch) quiche pan or round, shallow baking dish. Keep in mind that the rolls will approximately double in size.
7. Allow the rolls to rise again for about 30 minutes. Spray with water and sprinkle with poppy seeds, sesame, fine oatmeal or dried herbs.
8. Pre-heat the oven to 220C/430F and bake the rolls for 30-35 minutes or until golden brown and hollow-sounding when tapped on the base. Serve as described.
By Kurma