Idlis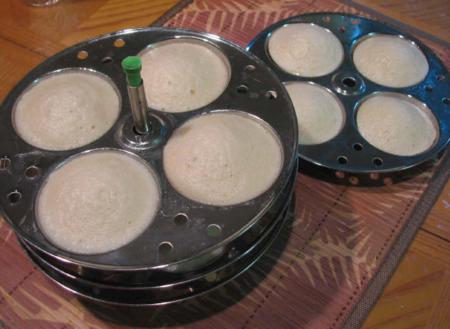 • 2 Cups rice
• 1 C split urad dal without skins (if grinding in a wet stonegrinder, use ½ C urad dal)
• 1½ C water (or as needed)
• 1½ Tsp salt
1. Wash thoroughly the rice and urad dal. Soak them separately in water for 8 hours or overnight.
2. Drain the rice and dal. In a food processor or wet grinder, first grind the dal, to a fine paste by adding water little by little or as required. Scrape often to ensure even grinding. Transfer to a bowl. Then grind the rice to a coarse paste adding water as required.
3. Combine both the grinded rice and dal. Cover and keep the batter in a warm place for 12-36 hours. Fermentation depends on your surrounding temperature and may vary from place to place. The batter is ready when it has expanded in volume and covered with bubbles.
4. Once the batter is fermented, gently stir and add salt. Grease the idli molds and pour the batter in it.
5. Assemble the tiered rack and place it in steaming pot. Cover and steam for 15-20 minutes or until a toothpick inserted into the idli comes out clean. Repeat the same for the remaining batter. (While steaming, you may need to check the water level in the steaming pot and add water as required). Serve the idlis hot with coconut chutney and sambar.
4
By Anand Lila Devi Dasi