Igloo Biriyani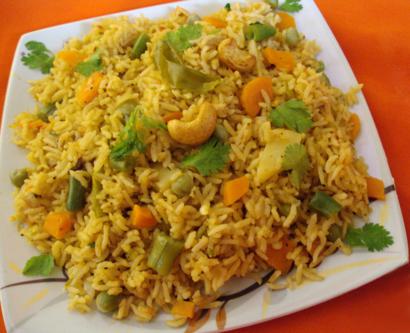 Ingredients
• Basmati rice (or) Pulav rice – 1 cup
• Mixed diced vegetables – 1 ½ cups(Potatoes, carrots, beans, cauliflower and peas)
• Fried cashew nuts – 1 tbsp
• Oil and ghee -as required
• Salt -according to taste.
• Cloves – 2
• Cardamoms – 2
• Cinnamon – 1 inch piece
• Bay leaf – 1
• Aniseed – 1 ¼ tsp.
• Annacippoo – 2 petals
• Marati Mokku – 2
Grind Together
• Green chili – 3
• Red chili powder – ½ tsp
• Ginger – ½ inch piece
Preparation
1. Soak rice for 10 minutes.
2. Fry it in half a tsp of ghee till moisture evaporates. Heat oil in a frying pan.
3. Add garam masala spices, ground paste with diced vegetables. Fry till vegetables become soft.
4. Add two cups of boiling water, salt and rice.
5. Transfer immediately to stainless steel vessel which is already heated. Bring to boil and immediately close the lid.
6. Keep in igloo hot pack. Check after 45 minutes. Do not open in between.
7. Serve garnished with fried cashew nuts.
Note: While cooking biriyani in igloo hot pack, ensure that there is no empty space while keeping this vessel. Keep other hot cooked items around the vessel, or keep hot water in other vessels around that.
Serves
2 Persons.

By Bhaktin Mallika