Kesari Bhath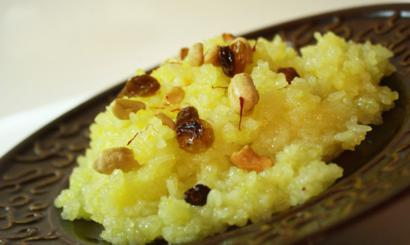 Ingredients
• Plain rice – 1 cup
• Sugar – 1 ¼ cup
• Water – ¼ cup
• Ghee – 1 tbsp
• Saffron – little
• Milk – 1 tbsp
• Saffron
• Cardamom powder – a pinch
• Broken cashew nuts – 1 tbsp
• Raisins – 1 tbsp
• Kesari powder – as required (Food color)
Variation:
• In place of sugar, candied sugar which is powdered well can be used. Reduce powdered sugar candy to ¾ cup or 1 cup as per taste. Do not add color for this rice.
Preparation
1. Cook rice softer than normal consistency.
2. Keep a heavy vessel on fire and add sugar with water.
3. Stir constantly in medium flame till you reach soft ball consistency.
4. Reduce flame add cooked rice with kesari powder, saffron dissolved in hot milk.
5. Stir gently till moisture dries up.
6. Remove from fire add cardamom powder, fried cashew nuts and raisins with rest of the ghee.
7. Add grated coconut if desired.
Serves
2 Persons.
By Bhaktin Shanti