Khus Khus Ka Seera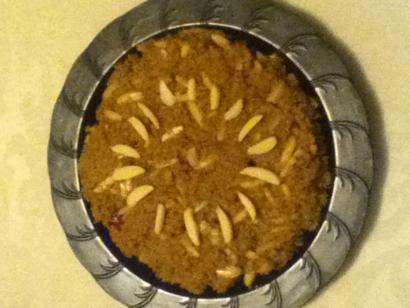 Khus Khus(Poppy seeds) has anti-inflammatory and antiseptic effects that provide relief from inflammations in circulatory system and nervous system. This herb is used as a pain reliever in diseases such as muscular aches, arthritis, rheumatism, gout, dryness and skin cracking.
Ingredients
• Poppy seeds (Khus Khus)- ½ cup
• Sugar- ½ cup
• Ghee- 4-5 tbsp
• Hot Milk- 500ml,
• Cardamom powder- 1 tsp
• Nuts-sliced almonds- ½ cup
• Raisins- optional
Preparation
1. Soak poppy seeds overnight or for minimum 3-4 hours.Wash well in a strainer.
2.
Grind the seeds in a mixer with 2-3 tbsp of
ghee
to a slightly coarse paste. One can add 3-4tsp of water and grind it more finely if you want the seera to be of smooth texture.
3. In a thick pan, heat 2 tbsp of ghee.
4. Add the poppy paste and fry on medium gas till it turns light pink and till that raw smell of Khus Khus goes away. (So smell it before frying to appreciate its disappearance)
5. Gradually add hot milk little by little till it is well incorporated with the khus khus.
6. Let it boil down to more than half its quantity on full gas. Keep stirring frequently. Then reduce the gas to medium heat and add sugar, nuts and raisins. (Keep little nuts aside for garnishing)
7. Keep stirring till all the liquid is evaporated and the seera leaves the side of the pan/ oil gets separated. Add cardamom powder and mix well.
8. Remove and garnish with nuts and serve hot after offering it to the Lord.
By Bhaktin Meena/Madhulila