Lemon cup cake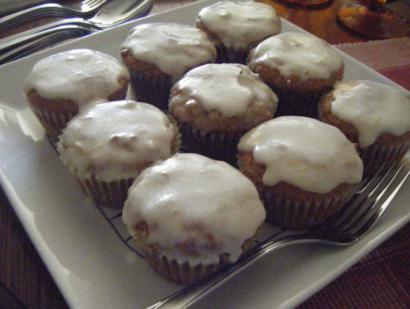 Ingredients
Cake:
•1/3 cup butter or margarine, softened
•3/4 cup sugar
•1 ½ tsp egg replacer, mixed with 2 tbsp warm water
•3/4 tsp lemon zest
•1/2 tsp vanilla extract
•1 1/3 cups flour
•1/2 tsp baking soda
•1/4 tsp baking powder
•1/4 tsp salt
•3/4 cup butter milk/sour cream/yogurt
Icing:
•2 tbsp butter, softened
•1 ¼ cups confectioners' sugar
•2 tsp lemon juice
•1/4 tsp vanilla extract
•½ tsp grated lemon peel
Preparation
1.Cream butter and sugar in a large mixing bowl. Beat in egg replacer, buttermilk, lemon zest and vanilla; mix well.
2.In a medium bowl, mix all dry ingredients then gradually add the flour to the large bowl; mix well. Fill greased or paper-lined muffin cups with 1/4 cup of batter. Bake at 350 degrees F for 22 minutes or until a toothpick inserted near the center comes out clean. Cool for 10 minutes; remove to wire racks to cool completely.
3.For frosting, cream butter and sugar in a small mixing bowl. Add lemon juice, vanilla, and lemon zest; beat until smooth. Decorate the cupcakes.
4.This type of icing is low-fat but very sweet. You may try to mix 3 oz cream cheese, 1 oz butter, 1-1 ½ cup confectioner's sugar, and 1 tsp lemon zest instead to make creamy icing instead.
Serves
12
By Madhavi Devi Dasi