Piquant Lemon Rice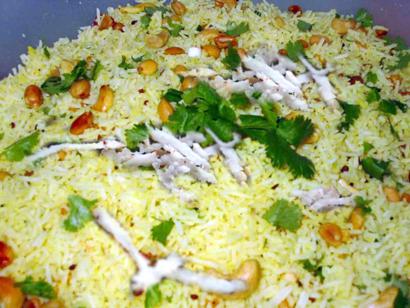 This light, midly piquant lemon-flavored rice dish is enlivened with crunchy bits of cashew nuts. The final burst of flavor comes from a fried seasoning called chaunk, made of mustard seeds and split urad dal fried in ghee or sesame oil until the aromatic oils in the seeds are released and the dal turns golden brown. This South Indian delight is simple to make and can be served at any time and at any occasion, from a simple noonday lunch to an elaborate banquet.
Preparation time (after assembling ingredients): 5 minutes
Cooking time: 25-35 minutes
Ingredients
• Basmati or other long-grain white rice – 1 cup (95 g)
• Water – 1 2/3-3 cups (400-480 ml)
• Salt – 1 teaspoon (5 ml)
• Ghee or sesame oil – 3 table spoons (45 ml)
• Raw cashew bits or halves – ½ cup (75 g)
• Split urad dal, if available – ½ table spoon (7 ml)
• Black mustard seeds – 1 teaspoon (5 ml)
• Turmeric – 1/3 teaspoon (1.5 ml)
• Fresh lemon or lime juice – 1/3 cup (80 ml)
• Minced fresh parsley or coarsely chopped coriander – 3 table spoons (45 ml)
• Fresh or dried shredded coconut for garnishing – ¼ cup (25 g)

Preparation
1. If basmati rice is used, clean, wash, soak and drain as explained on page.4
2. Bring the water to a boil in a heavy 1 ½ -quart/liter nonstick saucepan. Stir in the rice, salt and ½ table spoon (7 ml) of the ghee or oil. Cover with a tight-fitting kid. Reduce the heat to very low and gently simmer without stirring for 20-25 minutes or until the rice is fluffy and tender and the water is fully absorbed. Set aside, still covered.
3. Heat the remaining 2 ½ table spoons (37 ml) of ghee or oil in a small saucepan over moderately low heat until it is hot. Drop in the cashew nuts and stir-fry until golden brown. Remove with a slotted spoon and pour them over the cooked rice. Cover the rice again.
4. Raise the heat under the saucepan slightly, toss in the urad dal and the mustard seeds and fry until the mustard seeds turn gray and sputter and the dal turns reddish-brown.
5. Pour the fried spices into the cooked rice and sprinkle with the turmeric, lemon or lime juice and parsley or coriander. Gently fold until well mixed.
6. Remove from the heat and garnish each serving with a sprinkle of coconut.

Serves
4

By Yamuna Devi Dasi