Lemon Stuffed with Almond-Chickpea Pate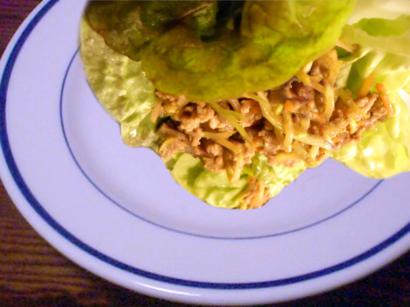 Inspired by a dish served at Robert Carrier's Hintelsham Hall in England, these appetizer salads are perfect for small parties, brunches or late-night dinners: hollowed-out lemons filled with hummous-like chickpea pate, served with decorative vegetable crudités and/or crackers.
Preparation time (after assembling ingredients): 15 minutes
Chilling time: at least 1 hour
Ingredients
• Lemons – 4 large
• Scraped fresh ginger root, sliced – ¾ -inch (2 ml) piece
• Seeded jalapeño chilies – 1-2
• Cream cheese or fresh, Cheese, cut into small pieces – 3 ounces (85 g)
• Drained cooked chickpeas (1 cup/100 g when dried) – 2 cups (480 ml)
• Toasted sesame seeds – 3 table spoons (45 ml)
• Sour cream or crème friche – 6 table spoons (90 ml)
• Yellow asafetida powder (hing) – ½ teaspoon (2 ml)
• Freshly ground pepper – ¼ teaspoon (1 ml)
• Coarsely crushed dry-roasted cumin seeds – 1 teaspoon (5 ml)
• Minced fresh parsley or chervil – 1 table spoon (15 ml)
• Watercress sprigs – 4
• Bibb lettuce leaves
• Crudites such as radish flowers, cucumber twists, or tomato flowers (optional)
Note: This amount applies only to yellow Cobra brand. Reduce any other asafetida by three-fourths.

Preparation
1. Cut off the tops of the lemons and reserve. Scoop out the pulp with a grapefruit spoon or knife until the shells are empty. Squeeze the pulp through a strainer and save the juice; discard the membranes and seeds. Trim a thin slice off the bottom of the lemons so they stand upright. Cover and chill needed.
2. Fit a food processor with the metal blade. Turn on the motor, drop the ginger and chilies through the feed tube and mince. Add the cheese and process until smooth. Drop in the chickpeas, sesame seeds, sour cream or crème fraiche, salt, oil or ghee, asafetida and pepper. Process until smooth, adding up to 2 table spoons (30 ml) of the reserved lemon juice for flavor and to obtain a uniform, spoonable consistency. Add the cumin seeds and pulse 2 or 3 times to crush them.
3. Fill the lemon cups, using a pastry bag fitted with a large star nozzle, or simply spoon in the pate, slightly piling it up over the edge of the cup. Sprinkle with the fresh herbs and top with the reserved caps. Place some bibb lettuce on each plate and add the vegetable garnishes. Chill until you are ready to serve

Serves
4

By Yamuna Devi Dasi