Palak bahar02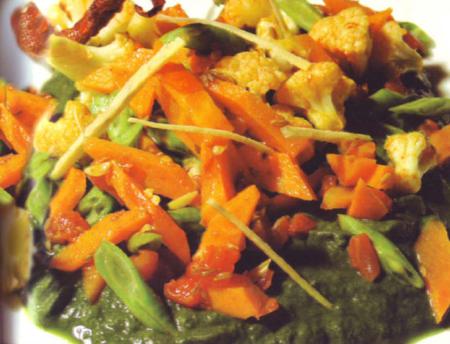 Ingredients
•Spinach……………………2 medium bunches
•Green chilies………… .. 3
•Carrots……………………. 2 medium sized
•French beans………………5-6
•Cauliflower……………….. ¼ medium sized
•Tomatoes…………………. 2 medium sized
•Ginger…………………….. 1 inch piece
•Fresh coriander leaves……. A few sprigs
•Oil……………………… 1 ½ tbsp
•Nutmeg powder…………… ¼ tsp
•Salt………………………… to taste
•Cumin seeds……………….. ½ tsp
•Lemon juice………………… 1 tsp
•Red chili powder…………… 1 ½ tsp
•Garam masala powder……… 2 tsp
Preparation
1.Clean and trim spinach and wash in running water several times. Blanch it in boiling hot water for two to three minutes. Drain excess water and refresh spinach leaves in cold water. Remove stems, wash and chop green chilies. Puree spinach in a blender along with one green chili.
2.Peel, wash and cut carrots into thin diagonal slices. String, wash French beans and cut into diamond shaped pieces. Wash and separate cauliflower into small florets. Blanch these vegetables in boiling water for two to three minutes. Drain.
3.Wash and chop tomatoes. Peel, wash and chop ginger. Clean, wash and chop coriander leaves.
4.Heat half of the oil, add ginger. Stir fry.
5.Add nutmeg powder and continue cooking on medium heat for a couple of minutes, stirring frequently.
6.Add pureed spinach, cook it for a minute and add salt. Keep it aside.
7.Heat the remaining oil in a frying pan, add cumin seeds and when it starts to change color, add the tomatoes. Cook on a medium heat for three to four minutes, stirring continuously. Add blanched vegetables, add red chili powder garam masala, and stir-fry lightly.
By Vaidehi