Mango Mawa Sandwich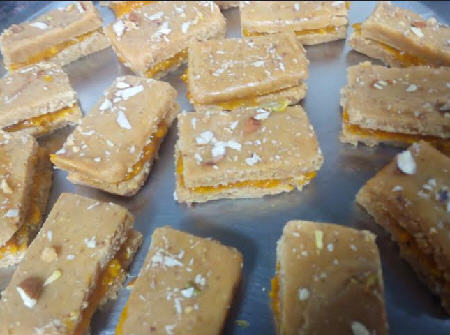 A.Mawa Burfi
Ingredients
•2 cups grated Khoya / Mawa
•1 cup sugar
•1/4 cup milk
•Saffron-a pinch or two
•Cardamom powder 1/2 tsp
•Chopped Pistachios for garnishing
Preparation:
1. Heat pan on a medium high. Add khoya and sugar and fry till the sugar gets dissolved and mixture becomes soft.
2. Now mix saffron in milk and microwave for 20 seconds.
Add saffron milk to the khoya mixture and keep stirring until the water dries out and the mixture becomes thick and starts to leave the sides of the pan.
3. Add cardamom powder and pour this mixture on a greased tray. The height of this mixture should be at least 2-2.5 finger width.
4. Let it cool down completely.
5. Cut burfi in to rectangle or square or round shapes
B. Mango filling
Ingredients:
•3 medium sized mangoes- pulp – 1 cup
•sugar 1/3 cup
•mawa 3 tbsp
•milk powder 3 tbsp
Preparation:
1. Beat the mango pieces in a mixture and make a smooth pulp.
2. Add the mango pulp and sugar in a kadhai kept on medium gas. Mix well. The mixture will become soft as the sugar melts. Keep stirring.
3. Once it becomes a smooth paste, add mawa and milk powder and stir till it thickens.
4. Put little water in a small bowl. Drop a small piece of the mango mixture in the water. If it forms a ball, put off the gas.
C. Assembling the Mango Mawa Sandwich
1. Cut the mawa burfi in rectangle/square/round shape. It should be 2-2.5 finger width thick in height.
2. Divide each burfi into two equal halves
Keep it aside carefully
3. Put in a tbsp or more of the mango filling on top of one half of the mawa burfi and cover it with the other half of the mawa burfi. The sandwich is ready
4. Garnish with chopped  pistachios.
5. Serve to the Lord and distribute the Prasad.
By Bhaktin Meena