Mathri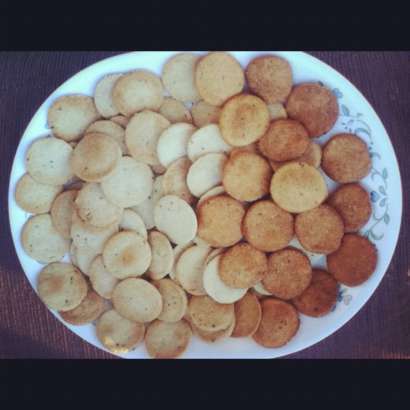 Ingredients
· Maida/All Purpose Flour- 2 cups, 250gms
· Sooji (Semolina)- ½ cup, 83.5gms
· Oil- 4 tbsp
· Salt- 1 tsp or as per taste
· Ajwain- 1 tsp
· Water lukewarm- ½ cup or a little more
Preparation
1. In a food processor/in a bowl mix all the above dry ingredients.
2. Add lukewarm water and mix well. Remove from the food processor and knead for 5-8 minutes more. If you are not using the food processor but kneading with your fingers, you may need extra ¼ cup water or less.
3. The dough should be like a firm chapati dough, it should form balls in your hand. Oil your fingers a little and knead an extra minute.
4. Divide the dough into 4 equal parts. Divide each part into 10 pieces.
5. Roll them into 1 ½ inch diameter round circles. Prick it with a fork. Or do not make 10 pieces, but roll it into a big circle and cut into desired shape with a round cookie cutter, making holes on it with a fork.
6. You can also take 4-5 circles together and prick it with a fork from both the sides.
7. Have atleast 1 inch of oil in the frying pan and heat it on medium heat. Once the test dough sizzles, the oil is ready. Deep fry the mathris few at a time. Once they come up, then flip them over. It usually takes takes 7-8 minutes to fry.
8. Fry till golden brown on either side. Do not fry on high heat. Else they will cook quickly from the outside and be soft from the inside.
9. You can bake them at 350F for 8 minutes on one side and then after flipping them over, bake for another 8 minutes.
10. Wait till it cools to room temperature, then offer it to the Lord and distribute the prasad. Store in an airtight container.
11. The light brown mathris in the picture are baked and the dark brown ones are fried. Both taste equally good.The baked ones are more crispier than the fried.
Serves
40 mathris. Stays for weeks. Serve with pickles or with a bowl of hot soup. Good crispy home made snacks for traveling and to give kids for school.
By Bhaktin Meena/Madhulila