Milk Powder Gulab Jamun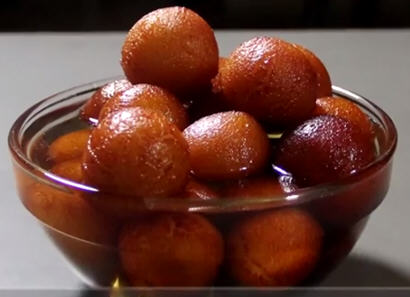 Ingredients
For Mawa
. Milk Powder – 1 Cup (135 grms)
. Milk 1/2 Cup
. Butter – 1/4 Cup (55 grms)
For Stuffing
. Cashew nuts – 10-12 pcs
. Green Cardamom – 7-8 pcs
. Pistachios – 10-12 pcs
. Sugar – 400grms (2 Cup)
. Plain Flour – 1/2 Cup
. Ghee – Frying Gulab Jamun
Preparation
1. Preheat the pan, Add butter and allow it to melt.
2. Now add milk into it and mix well. Reduce the flame.
3. Add milk powder and stir constantly to mix well.
4. Cook until it gets smooth and thick in texture on low flame.
5. Mawa is ready. Keep aside.
6. Now we will make sugar syrup for gulab jamun.
7. Add Sugar in a utensil, For two cups of sugar add 1 cup of water.
8. On the gas, stir the sugar at regular intervals and allow melting completely.
9. Meanwhile cut pistachios, cashews. Make 10-12 pieces of each. Peel and make powder of green cardamom. Mix half cardamom powder with diced dry fruits.
10. Sugar has dissolved completely. For checking take 1-2 drops of syrup in a bowl.
11. With help of your thumb and finger check the consistency of sugar. Just check for gooey texture like honey. Sugar syrup is ready, turn of the flame.
12. Add rest in sugar syrup. Take out mawa in a plate to add maida into it.
13. Add 1tsp mawa in stuffing and mix well for binding. Mix four tsp maida in mawa.
14. Knead until smooth. Add milk into mawa if it appears to dry.
15. Add 2 tsp milk into mawa and mash nicely. If required, add more milk into mawa.
16. We have used 7 tsp milk for kneading mawa.
17. We have also added mawa in stuffing. 1 tsp milk into it for binding.
18. Take little amount of mawa and bind. Firstly we will fry one jamun to check it doesnt split while frying. Make round ball and heat the ghee on other hand.
19. Place the gulab jamun in ghee for frying.Make sure ghee is not too hot nor medium. Keep it warm aptly. Flame should be low.
20. Now place gulab jamun in ghee for frying. With help of ladle pour ghee over the gulab jamun. Flip the side of gulab jamun by constantly stirring the ghee.
21. Gulab Jamun is ready. Now we will make stuffed gulab jamuns. Take out in a plate with absorbent paper. After few minutes, soak it in sugar syrup.
22. Now we will make 4-5 gulab jamuns. Take little amount of dough and flatten it on palm. Put little amount of stuffing in it. Cover the stuffing from all sides. Now roll it with your hands.
23. Now fry them. Place them in wok for frying. Pour ghee over gulab jamuns and fry until they turn dark brown in color.
24. Once gulab jamun turn dark brown in color, take them out in a plate. Place these gulab jamuns in sugar syrup. Likewise prepare all gulab jamuns.
25. After all the gulab jamuns are fried, turn off the flame. Soak all the gulab jamuns in sugar syrup for 5-6 hours. So that they get apt sweetness.
26. Milk powder gulab jamun are ready
By Bhaktin Archana